Style Setter: Victoria Gunraj
Hometown: Miami, FL
Profession: Fashion and Design, Marketing
If great style is cultivated, not born, the unique flair of fashion designer Victoria "VickyVybez" Gunraj is a master blend of Caribbean pride with infectious Miami vibes – perfectly embodied by her popular t-shirt line, DeportedTEES. Launched in 2011 as a University of Florida student from her small college apartment, the brand was inspired by her own upbringing as a Guyanese-American growing up in the vibrant Caribbean music scene in South Florida.
"My inspiration was fed from the vibes of the music, the fetes, the carnivals, and the free spirited island life, said Gunraj about DeportedTEES. "Back then there were no 'cool' Caribbean t-shirts; it was all generic at the time and not very fashionable. [So] I utilized these vibes and my American taste for fashion and created a modern Caribbean inspired t-shirt line."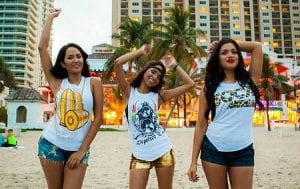 The final result – completely custom, chic and witty tees in flattering cuts and sly Caribbean slangs. DeportedTEES have become the essential gear for Miami Carnival, and was featured in last year's popular Carib Style Week fashion showcase. DeportedTEES' fun shirts provide the perfect patriotic touch for a generation of Caribbean-Americans, while capturing the deep connection so many second generationers have to the region's culture.
"Even though I have never traveled to Guyana, I was very fortunate to grow up in South Florida where not only the Caribbean culture, but specifically the Guyanese culture can be found," says Gunraj.
With an additional background in marketing, Gunraj also hopes to bring this Caribbean positivity online through her new social media project #PrideGT – an online and national movement dedicated to celebrating "women of all complexions, features, and styles" among the Guyanese Diaspora.
"I am showcasing the dynamic beauty of the Guyanese woman," says Gunraj. "We are set to do a photo shoot and host various events throughout the U.S. The main goal of #PrideGT is to instill a higher sense of pride for Guyanese-Americans and to represent our country in a positive light."