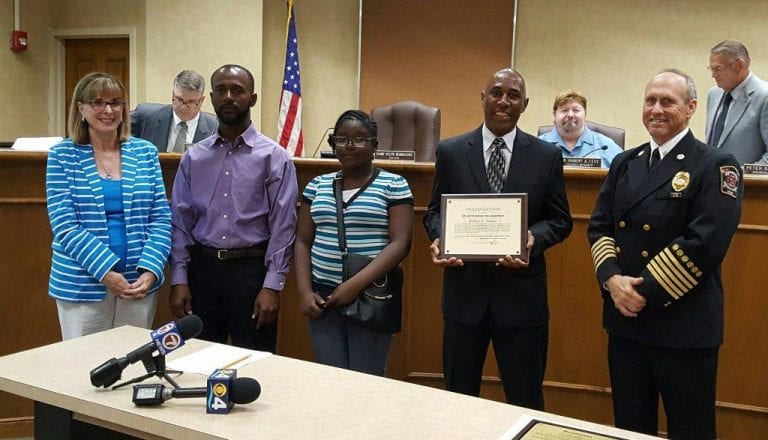 Jamaican-born Plantation resident, Jephtah Thomas, has received a civilian citation from the Plantation Fire Department for his act of bravery rescuing a father and young daughter last month from a car crash.
Thomas was presented his citation in a special ceremony by City of Plantation Fire Chief, E. Laney Stearns III and City of Plantation Mayor Diane Veltri Bendekovic. Also on hand were the father and 10-year-old daughter Thomas rescued from the canal crash, Haitian-born Teophil Omigat, and his daughter Vasthie, who have stayed in touch with Thomas since the accident, and now consider him a close family friend.
The crash occurred on March 11, when Omigat, heading to drop off Vasthie at school, when he lost control of his van, and crashed into the Sunrise Boulevard Canal. Passing on his way to work in Boca Raton, Thomas saw a van quickly sinking into the canal. Seeing the car in distress, "I immediately called 911," said Thomas in a previous interview with the National Weekly after the incident. "Then without a second thought I jumped into the canal to try and save whoever was in that vehicle."
Thomas saw Omigat in the backseat trying to open the windows to get his ten-year old daughter out. "As if a miracle, I managed to place my fingers in a slight space between the door frame and window, broke it and helped Omigat and Vasthie, his daughter, out," recalled Thomas. The pair incurred minor injuries, were treated at the Plantation General Hospital and released.
Describing himself as a "God fearing man, but not an ardent church-goer" Thomas, a Seven-Day Adventist, believes saving  the Omigat's "was sheer divine intervention. I was sent there at the right time to save those people."
Thomas will also now be serving at a volunteer fire fighter for the City of Plantation Fire Department, following a personal request from Fire Chief Stearns.