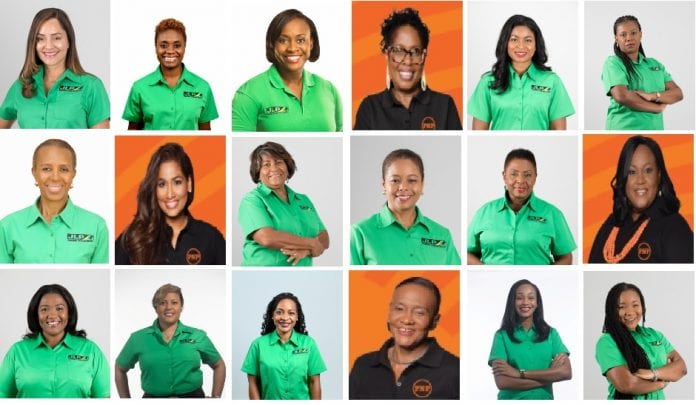 If current political trends are anything to go by, Jamaicans are putting more trust in women as qualified and competent political leaders. 
At home and across the diaspora, Jamaicans have shown overwhelming support for Democratic vice-presidential candidate Senator Kamala Harris, who is of Jamaican descent. And in Jamaica, a record 30 Jamaican women, 18 from the Jamaica Labor Party (JLP) and 12 from the People's National Party (PNP) contested the recent September 3 general elections. Of these, an exceptional 18 were victorious, pushing the percentage of women in the Jamaican parliament to a record 28.5 percent.
During the election campaigns, both parties highlighted the importance of women in politics and committed themselves to ensuring more women had a seat at the table. In the last JLP administration, several female politicians were among the top-performing ministers, therefore it's no surprise they were able to secure an impressive 14 seats for the party, at a win rate of 77.8 percent. 
With women now represented in both the Upper and Lower House, the next challenge will be for women to excel in Parliament. Meet the exceptional experienced and qualified 18 hoping to bring change in Jamaica:
Scores of Newcomers
Kerensia Morrison: This outspoken educator first entered representational politics in 2016, and this year she beat the PNP's Oswest Senior-Smith by a very convincing margin to retain her seat. 
Rhoda Crawford: The 31-year-old newcomer created one of the most shocking defeats of the election by beating former Minister of National Security Peter Bunting in Manchester Central. The educator has big plans for the constituency where she grew up.
Tamika Davis: The attorney-at-law shook things up in Hanover Western by defeating PNP incumbent, Ian Hayles. The young lawyer, who has run a private practice for 10 years, has also served the country as a teacher.
Tova Hamilton: Another upsetter, the 37-year-old defeated Victor Wright to claim the seat held by the PNP since 1989. Hamilton served as a JLP Senator earlier this year and previously served as deputy executive director of the Tourism Product Development Company (TPDCo).
Krystal Lee: The former St. Mary councilor defeated the PNP's Dayton Campbell, and independent Peter Shand, to represent St. Ann North West. She has over a decade of political activism under her belt, and manages a local gasoline company.
Marsha Smith: She took over St. Ann North Eastern after the passing of former MP Shahine Robinson earlier this year and defeated the PNP's Keith Brown by a landslide. She adds to the cadre of new female attorneys in government. 
Michelle Charles:  The 50-year-old dental surgeon, daughter of retired House Speaker Pearnel Charles Sr., delivered another shocking upset in St. Thomas Eastern, ousting Fenton Ferguson, who held on to the seat since 1993. 
Ann-Marie Vaz: "Action Ann," who was first elected as MP for Portland Eastern last year (beating the PNP's Damion Crawford) retained the seat after she convincingly beat Purcell Jackson in the general election. Vaz, wife of MP Daryl Vaz, MP for the adjoining constituency, is passionate about educational advancement of Jamaicans. 
Juliet Cuthbert-Flynn:  The former Olympian defeated popular PNP newcomer Krystal Tomlinson to retain her St. Andrew West Rural seat. The fitness trainer and gym operator is an advocate for updating laws affecting women including legalizing abortion. 
Seasoned Veterans
Juliet Holness: First elected to Parliament in 2016, politics isn't anything new to the wife of Prime Minister Holness. The accountant and real estate agent was reelected in St. Andrew East Rural.
Fayval Williams: The chartered financial analyst and Harvard graduate first entered Parliament in 2016. Serving as minister of energy, science and technology since 2019, she retained her St. Andrew Eastern seat.  
Olivia "Babsy" Grange: At age 74 and with decades of service in politics, she's one of the most experienced female politicians in Jamaica. She served as a Government senator from as early 1985, and MP of her St. Catherine constituency since 1997. She has had an illustrious career in culture. She was the sitting minister of culture, gender, entertainment and sport when Parliament was dissolved.
Marlene Malahoo Forte: The country's attorney general, Forte convincingly beat her challenger, Andre Haughton, to retain her grip in St. James West Central. This will be her second term as MP, having previously served as a senator and state minister of foreign affairs and foreign trade.  
Marisa Dalrymple-Philibert: Another attorney, she helped to create history when she beat her two male challengers to represent the JLP in the southern half of Trelawny for her fourth consecutive term.
Natalie Neita: She's one of the four PNP women candidates who tasted victory. She held steadfastly to the St. Catherine North Central seat. Neita has been actively involved in representational politics since the '90s.
Denise Daley: Another PNP woman who was victorious, securing her third term as MP for St. Catherine Eastern. Daley previously served as mayor of Spanish Town for over a decade, and a parish councilor for over 20 years. 
Lisa Hanna: Though by a narrow margin, the MP for St. Ann South East managed to secure her fourth term in Parliament. Hanna, former Miss World 1993, served as minister of youth and culture from 2012 to 2016. She is being highly touted as the next PNP leader. 
Angela Brown-Burke: She assumed responsibility of the St. Andrew South West constituency after former Prime Minister Portia Simpson Miller retired, and held the PNP "safe seat" since. She was re-elected with one of the biggest margins in the election. She is a former councilor, mayor of Kingston and St. Andrew, vice president of the PNP, and deputy president of the Senate.