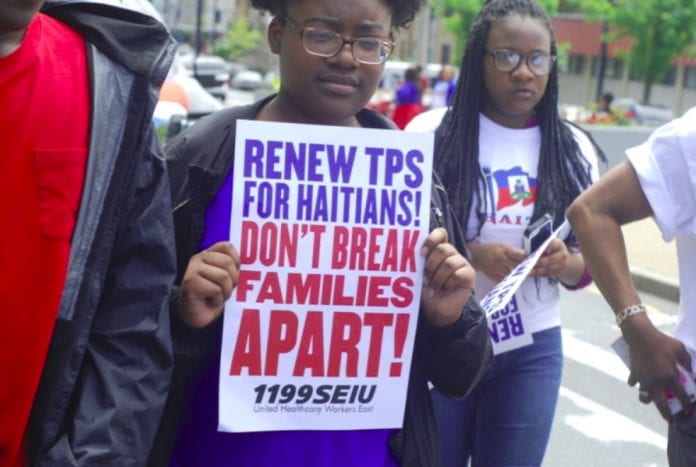 More than 100 United States lawmakers have called on President Donald Trump to reinstate the Temporary Protected Status (TPS) for hundreds of thousands of immigrants, including Haitians, legally living in the US.
Bipartisan support
Democrat Senator Bob Menendez, the Ranking Member of the Senate Foreign Relations Committee, and Congressman Eliot Engel, the Ranking Member of the House Foreign Affairs Committee, Monday led a bipartisan group of 110 members of Congress in calling on the Trump Administration to reinstate the TPS.
Acting Secretary of Homeland Security, Elaine Duke, last November announced the decision to terminate the TIPS designation for Haiti with a delayed effective date of 18 months to allow for an orderly transition before the designation terminates on July 22, 2019.
This follows a decision by Washington that Haiti had made considerable progress, and that the country's designation will likely not be extended past six months.
The decision to terminate TPS for Haiti was made after a review of the conditions upon which the country's original designation were based and whether those extraordinary but temporary conditions prevented Haiti from adequately handling the return of their nationals, as required by statute.
Based on all available information, including recommendations received as part of an inter-agency consultation process, Duke determined that those extraordinary but temporary conditions caused by the 2010 earthquake no longer exist.
Overtly political decisions
The bipartisan lawmakers group released their letter sent to Secretary of State Mike Pompeo after the State Department released a series of internal documents showing the Trump administration's overtly political decisions to terminate TPS for El Salvador, Honduras and Haiti.
The Government Accountability Office (GAO) has also opened a review of the Trump Administration's decision to terminate those TPS designations.
Haitians with TPS will be required to reapply for Employment Authorization Documents in order to legally work in the United States until the end of the respective termination or extension periods.