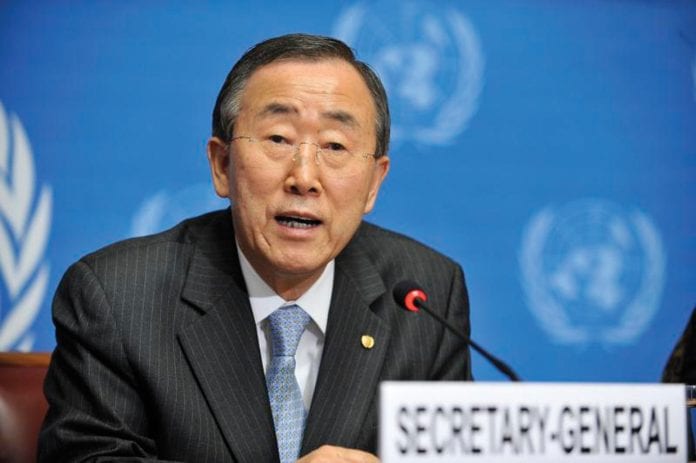 UN Secretary General issues apology for Cholera outbreak
 Addressing the United Nations General Assembly for the last time, Secretary General, Ban Ki-moon said the cholera outbreak and the sexual abuse by UN peacekeepers had "tarnished the reputation of the United Nations and, far worse, traumatized many people we serve". Ban, who will be stepping down at the end of this year, has served 10 years to the organization, said he felt "tremendous regret and sorrow at the profound suffering of Haitians affected by cholera. The country was free of cholera until 2010, when UN peacekeepers dumped infected sewage into a river.
In October 2010, cholera-infected Nepalese MINUSTAH soldiers allowed feces from their out-houses to flow into the headwaters of Haiti's largest river, the Artibonite, used for drinking, washing, and irrigation. A study done the next year by the US Centre for Disease Control and Prevention (CDC) said UN peacekeepers from Nepal, an area where cholera was an endemic, were the likely cause of the outbreak. Since then, more than 9,000 people have died of the disease which causes uncontrollable diarrhea, fever and headaches. In the initial outbreak of the virus, mostly the first two years, 800,000 people fell ill.
The UN has said that they are not required to aid and has not legally accepted responsibility for the outbreak. A U.S ruling determined that they are "legally immune from prosecution." An independent panel appointed by General Ban issued a report in 2011 that did not determine conclusively how the cholera was introduced to Haiti. In their appeal, the lawyers from the Boston-based Institute for Justice and Democracy in Haiti (IJDH), the San Francisco-based Centre for Law and Global Justice, and the Miami-based firm of famed immigration lawyer argued that the judge had erred in ruling that the UN and its military force, the UN Mission to Stabilize Haiti (MINUSTAH), were immune "despite having violated their treaty obligation to provide a mode to settle private law claims".