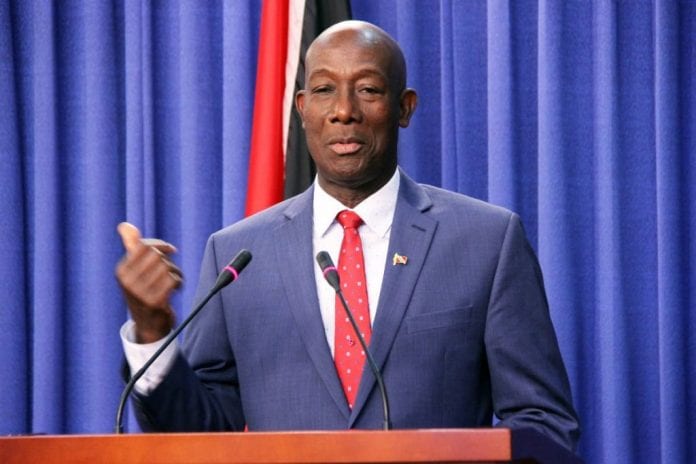 The Trinidad and Tobago government on Saturday announced a further easing of the restriction of measures aimed at curbing the spread of the coronavirus (COVID-19).
Prime Minister Dr. Keith Rowley, speaking at a news conference, said that an estimated 800,000 vaccines should be arriving from China on Tuesday and that would allow for an increased vaccination program being undertaken by the Ministry of Health.
He said based on the vaccination program, the government would allow for the re-opening of the retail sector on Monday, July 19, followed by the re-opening of food establishments and some other sectors.
Last week, the government allowed for the reopening of the construction sector and Rowley said that allowed for 45,000 people being able to earn a living.
Rowley said that the government would still in keep place the state of emergency and the curfew but would be monitoring the situation to ensure that those measures could be lifted as soon as possible.
He said that since the pandemic began and the announcement of a vaccine to help treat the effects of the virus, his administration had sought to acquire vaccines for at least 900,000 people so as to ensure a level of herd immunity here.
Rowley recalled the difficulties Trinidad and Tobago and other developing countries had in acquiring the vaccines since 70 percent of all vaccines produced were being used in rich and powerful countries.
He said the arrival of the Chinese-made Sinopharm vaccine on Tuesday as well as those other vaccines already here would allow for a significant number of people to be vaccinated by the end of July.
"The government of Trinidad and Tobago today has done what the government had set out to do which is to provide the population with the vaccines that are required and the population is now required to use those vaccines to protect itself on an individual basis," Rowley said.
He said the idea is to get the vaccines "as quickly as possible into arms" as the government moves to further re-opening the economy.
He said the next set of workers to go back to their jobs will be those in the food establishment, restaurants, iterant and non-iterant businesses, curbside pick and take out, delivery and drive through.
"We would like to begin that on the 19th of July, so you have a week to prepare and to come out smoothly," he said.
"From the experiences, we have had we want to avoid the effects of the euphoria," Rowley said reminding persons that the health protocols including wearing masks and safe distancing would still apply.
He said once the food establishments are opened, tens of thousands of people would be interacting again.
Trinidad and Tobago has recorded 930 deaths and 34, 402 cases of the virus since March last year.
CMC