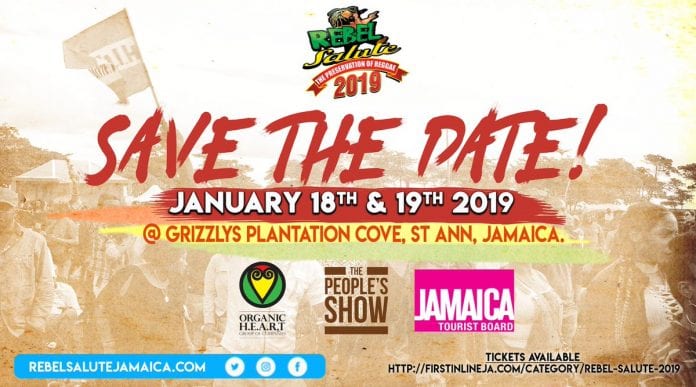 The official launch for Rebel Salute 2019 took place last night (December 27) in Kingston, Jamaica at the Pegasus Hotel.
The event was hosted by Christopher "Johnny" Daley and included performances by Tony Rebel's daughter, fellow reggae artist Davianah, Bushman, Capleton, Notis HeavyweightRockaz band, Shane-O, Tony Rebel and Nesbeth. Among the guest speakers were Don White from the Jamaica Tourist Board, The Director of Public Prosecutions, Paula Llewellyn, Minister of Culture, Gender, Entertainment and Sport, Hon. Olivia Grange, and of course, Tony Rebel.
Under the concert's theme, "The Preservation of Reggae", Director of Tourism Don White highlighted the importance of reggae to Jamaica and Jamaica's tourism industry. "From a tourist board perspective, music forms an integral part of our growth strategy for jamaica's tourist products, and events like rebel salute make the experience of coming to Jamaica come alive for many visitors, but more importantly, for our own people in Jamaica to enjoy our own music."
He continued his speech, highlighting reggae's unique ability to bring people together in the spirit of love, stating "Travellers have many places to go and to choose to enjoy musical experiences. But the authenticity of a Jamaican indigenous music form is so enthralling that people find their way from far-flung places."
He also thanked the Honorable Olivia Grange for the ministry's hard work in efforts to preserve and protect the genre. "Reggae music, through the hard work of Honorable Minister Olivia Grange- the Minister responsible for Entertainment, has secured the newest and probably the most coveted spot on UNESCO's global cultural heritage list, and I think that deserves a round of applause."
The night went on with performances and guest speakers, leading up to remarks by the man of the night, Mr. Tony Rebel.
Mr. Rebel himself made the announcement of a few artists on the lineup, urging patrons to stay tuned to the website and Rebel Salute's social media for more announcements.
With King Yellowman, Shane-O and Queen Ifrica in the audience (all performers at 2019 Rebel Salute), he announced other artists on the lineup, namely Ugandan musician and politician Bobi Wine, The Wailers (Rebel Salute first-timers), Dawn Penn (also a first-timer), Wayne Marshall, Marvin Moore, Marcia Aiken, Wayne Wonder, Anthony Malvo, Luciano, Chezidek, Jah Bouks, Koffee, Leroy Gibbons, Mighty Diamonds, Wailing Souls, Agent Sasco, Mr. Easy, Ken Boothe, Half Pint, Mr. Vegas, King Kong, Chalice, King Sounds, Nesbeth, Jesse Royal, Turbulence, Capleton, Bushman, Mykal Rose, Chi Ching Ching and Rodney Price (Bounty Killa).
Given recent events, perhaps the most burning question in everyone's minds: Will Buju Banton be at Rebel Salute?
Tony Rebel, on the topic of Buju Banton, stated, "if a man goes to prison for 3000+ days, and him faawud, allow him to be an astronaut. Why? Him need space. Give him that." He did, however, extend an invitation saying that "he's always invited".
The 26th edition takes place in three weeks: January 18 & 19, 2019 at Grizzlys Plantation Cove in Priory, St. Ann (Jamaica). Tickets can be purchased online at rebelsalutejamaica.com.