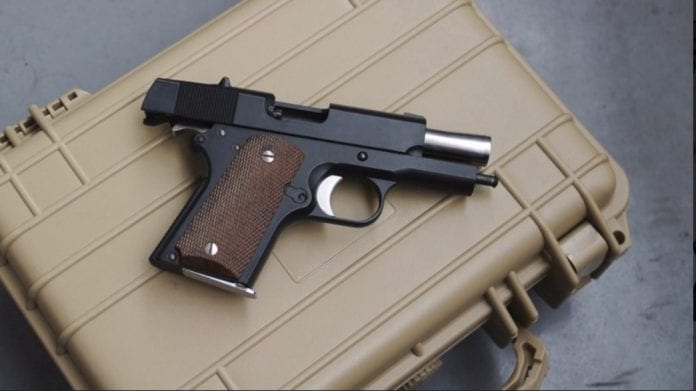 In an effort to clamp down on the gun related crimes, the Jamaican government has announced plans to introduce tough new gun laws to combat the wave of crime sweeping the nation.
On November 26, during the 74th annual conference of the governing Jamaica Labor Party (JLP), National Security Minister Robert Montague said security officials have uncovered a worrying trend where 84 percent of crime in Jamaica are committed with the use of the gun.
He said tighter gun legislation is part of the government's strategy to clamp down on crime.
To bring bill to parliament
"When I bring that bill to Parliament, we are going to say that if you are charged with a gun crime – no bail. So far this year 143 Jamaicans have been murdered by men who are on bail for other charges. We are going to put it in law that if you are caught with a gun or any gun crime, there will be mandatory minimum sentence that you know that when you get convicted yuh gwine tan a prison fi 15-20 years (sic)," said Montague in an address to supporters.
However, the stance of the main opposition People's National Party (PNP) is cause for concern – as Montague believes that the controversial legislation could be challenged by not only the PNP but other groups.
Montague accused the PNP of refusing to meet with him to discuss the crime situation.
"In February, I had a meeting with officers of the PNP, they promised they would organize another meeting. I don't hear anything from them. I write them in July, I call them in September and all now they don't want to meet with us to talk about crime and violence in this country. They must answer us, they must meet with us….."he told JLP supporters.
However, the PNP has dismissed claims of refusing to meet to discuss the crime problem.
Measure opposed by PNP
The PNP spokesperson on National Security, Fitz Jackson said, "I am not aware of any invitation from the government, certainly not to me as the opposition spokesperson on National Security …. I'm out-rightly denying it."
The PNP also responded to the anti-crime initiatives proposed saying they are a combination of stale and failed policies.
Jackson pointed to the Gun Court Act of the 1970s, stating that the proposal for mandatory minimum sentences, included in that Act, were then opposed by the Bar Association and civil society.
He said the UK Privy Council later struck down the clause, as it ruled that under separation of powers, fundamental to the Westminster model of government, sentencing is a function of the judiciary and cannot be assigned to any other body.
Jackson also warned the administration not bring such a legislation to Parliament which will deny Jamaicans their right to bail and, therefore, the presumption of innocence under well-established Jamaican jurisprudence.