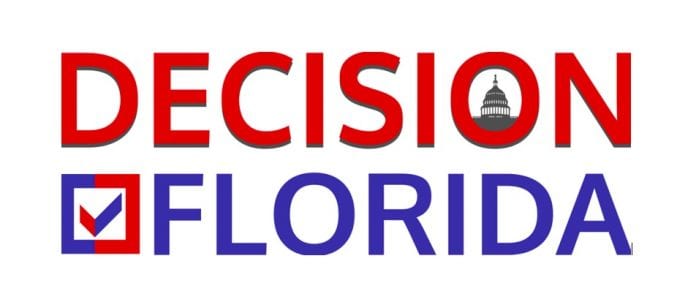 US Senate
Rick Scott (Dem) leading Democrat Bill Nelson. Results too close to call, and advances to a recount as Nelson is behind by less than 0,5 percent of total votes cast.
US CONGRESS:    
District 20
Alcee Hastings (DEM) Incumbent
District 22
Ted Deutch (DEM)
District 23
Debbie Wasserman Schultz- (Dem)
District 26  
Debbie Mucarsel Powell (Dem)
District 27
Donna Shalala (DEM)
GOVERNOR/LIEUTENANT GOVERNOR OF FLORIDA
Ron DeSantis/Nunez (Rep)
ATTORNEY GENERAL of Florida
Ashley Moodie (REP)
Florida Commissioner of Agriculture and Consumer services
Matt Caldwell (REP)
FLORIDA CHIEF FINANCIAL OFFICER
Jimmy Patronis (REP)
FLORIDA STATE SENATOR
District 30
Bobby Powell (Dem) – Incumbent
District 34
Gary Farmer, Jr. (DEM) Incumbent
District 36
David Perez (DEM)
District 40
Annette Taddeo (DEM)
STATE REPRESENTATIVES
District 82
MaryLynn Magar (REP)
District 84
Delores Hogan Johnson (DEM)
District 85
Rick Roth (REP)
District 86
Matt Willhite (DEM) Incumbent
District 87
David Silver (DEM) Incumbent
District 89
Mike Caruso (REP)
District 93
Chip LaMarca (REP)
District 98
Michael Gottlieb (DEM)
District 103
Cindy Polo (DEM)
District 105
Ana Marie Rodriquez (REP)
District 108
Dotie Josephs (DEM)
District 111
Bryan Avila (REP)
District 112
Nicholas Duran (Incumbent) –(DEM)
District 113
Michael Grieco  (DEM)
District 114
Javier Fernandez  (DEM)
District 115
Vance Aloupis (REP)
District 116
Daniel Anthony Perez (REP)
District 118
Anthony Rodriquez (REP)
District 119  
Juan Fernandez-Barquin (REP)
District 120.
Holly Raschein (REP)
FLORIDA CONSTITUTIONAL AMENDMENTS
#1:  Increased Homestead Property Tax Exemption – Increases the amount of a home's value exempted from property tax (Will force local governments to cut public services or raise local taxes) – FAILED  
#2: Limitations on Property Tax Assessments – Makes the cap on non-homestead (2nd homes and commercial) property assessment increases permanent (Will continue to limit resources available for public services; Three South Florida property appraisers support the amendment and say a Yes vote will avert a sudden and largely unexpected tax crisis for more than 530,000 residential and business property owners in Miami-Dade, Broward and Palm Beach counties) – PASSED
#3 – Voter Control of Gambling in Florida – Requires voter approval of casino gambling (Removes authority to expand gambling from the legislature and returns it to voters) –  PASSED
#4 – Voting Restoration Amendment  – Restores right to vote for most people with felony convictions upon completion of sentences (Gives 1.5 million Floridians the right to vote after paying their debt to society)  – PASSED
#5 – Vote Required to Impose, Authorize, or Raise State Taxes or Fees – Requires 2/3 vote of legislature to impose or increase tax or fee (Will tie the hands of future legislatures making it nearly impossible to address budget needs, such as teacher raises and natural catastrophes) – PASSED
#6 – Rights of Crime Victims; Judges (multiple questions) – Adds a Marsy's Law (victims' rights) to state constitution, increases judicial retirement age; prohibits judges from deferring to admin agencies to interpret law (Victims' rights already protected in the Constitution; Eliminates an existing provision that protects the constitutional rights of the accused)  – PASSED.
#7 – First Responder and Military Member Survivor Benefits; Public Colleges and Universities – Requires death benefits for first responders and military members, a supermajority vote for college fees, and adds state college system structure to constitution (3/4 majority vote to increase fees makes it very difficult to meet university needs) – PASSED.
  #9 – Prohibits Offshore Oil and Gas Drilling; Prohibits Vaping in Enclosed Indoor Workplaces – Bans offshore oil and gas drilling and vaping in enclosed indoor workplaces (Concern for the environment overrides concern about putting vaping in the Constitution –  PASSED.
#10 – State and Local Government Structure and Operation – Prohibits counties from abolishing certain local offices, changes start date of legislative sessions, and adds an executive office and executive department to constitution (Takes away control granted to charter counties limiting ability to respond to local conditions) – PASSED.
#11 – Property Rights; Removal of Obsolete Provision; Criminal Statutes – Repeals some obsolete language; repeals a provision saying that changes to a criminal statute are not retroactive (Impact of criminal statute portion is unclear and disputed. Other repealed provisions are already unenforceable or expired) –  PASSED.
#12 – Lobbying and Abuse of Office by Public Officers – Prohibits public officials from lobbying for compensation while in office and 6 years thereafter (Applied too broadly at local level; will not solve problems of money and influence in politics) – PASSED
#13 – Ends Dog Racing
Prohibits betting on dog races (Ends legal wagering on inhumane dog racing) – PASSED.
STATE JUDICIAL ELECTIONS
JUSTICES OF THE SUPREME COURT
Retain Justice Alan Lawson                                          YES
FOURTH DISTRICT COURT OF APPEAL
Retain Judge Burton Conner                                       YES
Retain Judge Jeffrey Kuntz                                          YES
Retain Judge Carole Taylor                                         YES
BROWARD COUNTY ELECTIONS
County Commission
District 2      :                                             Mark Bogen
District 4      :                                             Lamar Fisher
CIRCUIT COURT  17 JUDGE
Group 38:                                   Stefanie Camille Moon
Group 46:                                    Maria Markhashin-Weeks           
COUNTY COURT JUDGE
Group 9                                           Corey Amanda Cawthon
Group 19:                                       Jackie Powell
BROWARD SCHOOL BOARD
District 1:                               Ann Murray                                         
Broward Soil & Water Conservation
District 2                                             Richard DeNapoli
BROWAD COUNTY REFERENDA
#1:  Funding for Countywide Transportation System Improvements thru Levy of Surtax – YES
#2:  Standards for Establishing County Commission Districts – YES
#3:   Redistricting Procedures for County Commission Districts –  YES
)
#4 :  Broward County Affordable Housing Trust Fund – YES
#5:  Broward County Office of Inspector General's Discretion to Commence an Investigation – YES
#6:  Broward County Planning Council Revisions to Zoning Glossary and Public Hearings – YES
#7:  Central Examining Boards Appointment of Alternate Members – YES
#8:  Board of Rules and Appeals Quorum Shall be the Majority of the Total Board Membership – YES
#9:  Posting of Notices, Agenda and Backup Materials No Later Than 48 Hours Prior to Meeting.…..YES 
#10:  Composition of the Independent Board That Nominates the County Auditor……. YES
(We have not been able to get the listed position appointed)
#11:  Compositon of the Broward County Inspector General Selection Oversight Committee…. YES
(We have not been able to get the listed position appointed)
#12:  Housekeeping Amendment to Delete Ineffective or Unnecessary Language: Yes  
MIAMI-DADE COUNTY ELECTIONS
CIRCUIT COURT 11 JUDGE
Group 14:                   Vivianne del Rio                                    
COUNTY REFERENDA
#2: Charter Amendment Relating to County Appointed Officials and Employees Running for Certain Elective Office ….YES
#3:  Charter Amendment Relating to Review of Initiatory Petitions for Legal Sufficiency………….YES
#4:  Charter Amendment Regarding Elections for County Commissioners and Mayor……………..YES
#5:  Charter Amendment Prohibiting Certain Payments Circulators of Initiatory Petitions………YES
#6:   Charter Amendment Creating New Municipality in Northeast Miami Dade…….NO
SCHOOL BOARD REFERENDUM
Referendum to Approve AdValorem Levy for Teachers, Instructional Personnel, School Safety and Security  …..YES
PALM BEACH COUNTY ELECTIONS
CIRCUIT COURT 15 JUDGE
Group13:                                                     Scott Ryan Kerner       
Group 18:                                        Maxine Dianne Cheesman
Group 25:                                                              Sarah Willis
COUNTY COURT
Group 4:                                               Ashley Zuckerman              
COUNTY COMMISSION
Distrct 2:                                                              Greg Weiss
District  4                                                             Robert Weinroth
Port of Palm Beach (Grp 5):                            Joseph Anderson 
School Board question……….YES
MUNICIPAL ELECTIONS
BROWARD COUNTY
Coral Springs
Commissioners
Seat 2                          Dan Daley
Seat 4                         Joshua A Simmons
Cooper City
Commissioner
Seat 2                               Howard M. Meltzer
Dania Beach
Commissioners
Lauren Odman
Lori Lewellen
Davie
City Council
District 2           Caryl Hattan
District 3           Susan Starkey
Hallandale Beach
Special Mayor At-Large   – Joy D. Adams
Commissioners
Seat 1                                Mike Butler
Seat 2                                Sabrina Javellana
Hollywood
Commissioners
District 1                 Caryl Sandler Shuham
District 3                Traci Lynn Callari
District 5                Kevin Biederman
Lauderhill
Commissioners
Seat 2  – Richard Campbell
Seat 4   Denise Grant
Lauderdale Lakes
Commissioners
Seat 1                         Marilyn Davis
Seat 2                         Beverly Williams
Margate
Commissioners
Seat 3                             Antonio Arserio
Seat 5                             Joanne Simone
North Lauderdale
Mayor At-Large            Ana Ziade
Commissioners
District A                       Lorenzo Wood
District B                       Mario Bustamante
Oakland Park
Commissioners
Michael E. Carn
Jane F. Bolin
Parkland
Commissioners
Richard Walker
Plantation
Mayor                Lynn Stoner
City Council
Group 1             Erik Anderson
Group 2             Denise Horland
Group 5             Nick Sortal
Pompano Beach
Mayor                Rex Hardin
Commissioners
District 1           Andrea Leigh McGee
District 2           Rhonda Eaton
District 3           Tom McMahon
District 4           Beverly Perkins
District 5           Barry Moss
South West Ranches
Council Member
District 1                 Bob Hartmann
Sunrise
Commissioner
Group C                 Neil C. Kirch
Group D                 Lawrence "Larry" Sofield
Tamarac
Mayor At-Large – Michelle J. Gomez
Commissioners
District 2               Mike Gelin
District 4               Debra Placko
Weston
Commissioner
Seat 4                Mary Molina-Macfie
West Park
Commissioners
Seat 1                 Anthony Dorsett
Seat 2                Brandon Smith
Wilton Manors
Mayor
Justin Flippen
Commissioner
Paul Rolli