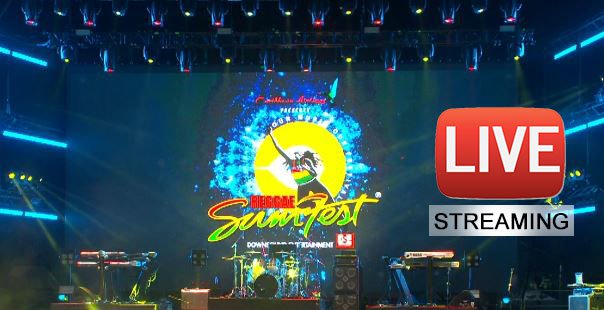 MONTEGO BAY, Jamaica – Night 2 of Reggae Sumfest on July 20 saw many popular reggae acts gracing the stage, including the return of the legendary Buju Banton.
The promoters of the annual festival ensured that night 2 got off to an early start, following a delay in performances on night 1 that caused Jamaican authorities to bring the show to an abrupt end at 8:00 am on Sunday morning, leaving many patrons disgruntled.
On Sunday night, the 21-year-old reggae musician Tessellated opened the show at 8:30 pm, performing a slew of songs which included his hit "Pine and Ginger".
Tessellated was followed by new-school reggae acts Warrior love band, Jovexx and Kemar Highcon.
2010 Digicel Rising Star winner and winner of the 2018 season of X-factor made his Sumfest debut, soothing the crowd with his smooth vocals and recalling his difficult journey to international fame.
Reggae acts Jah9 and Etana, the only two women billed for the night, also kept the crowd rocking with their individual, soul-filled reggae performances.
Popular reggae act Protoje chose to be somewhat political during his set. While performing his politically-charged hit song "Blood Money", which speaks out against criminal and political corruption in Jamaica, the grammy-nominated artist freestyled a new verse, making mention of the recent Petrojam scandal and the marches against abortion laws by local churches. Coincidentally, he performed "Blood Money" just as Prime Minister Andrew Holness was seen making his way to the crowd.
Protoje also brought out his famous friends, songstress Sevana, Lika Ike, Jesse Royal, Agent Sasco and headliner Chronixx to perform their many collaborations.
The first "B" of the three headliners, Beres Hammond delivered a stellar performance, even sharing his stage with Beenie Man.
Hammond was followed by other Digicel Rising Star Winners, Romaine Virgo, who again called Agent Sasco to perform their collaboration, "Fade Away" and later, Christopher Martin.
Walking to the stage like a champion, was the final headliner of the festival and the man of the year, Buju Banton, who made his return to the Sumfest stage after more than 10 years since his last performance.
He stormed the stage, performing an energetic rendition of his 2006 hit "Me and Oonu" as the crowd roared. As he got comfortable on stage, the Gargamel took his shoes to be better able to dance and move around.
Later during his performance, Banton performed a light-hearted freestyle, calling on the Jamaican government to legalize marijuana. "Mr. Holness, remember mi give you a spliff. And me ask you inna your office fi legalize it", the artist joked.
Buju Banton was the last performer of the night, delivering a brilliant 90-minute set to bring the 2019 Reggae Sumfest to a close at 6:00 am this morning.