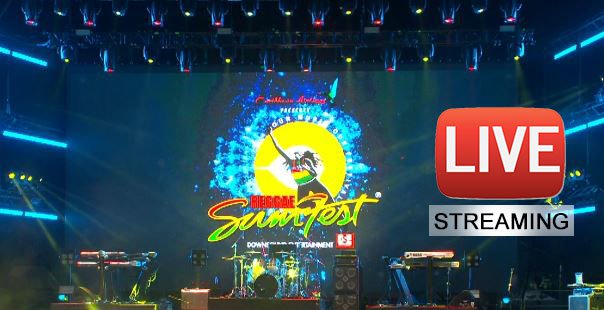 MONTEGO BAY, Jamaica – The main event at the annual Reggae Sumfest got underway last night, July 19, with a host of reggae and dancehall performances that went into the early hours of this morning.
Night one of Reggae Sumfest began with energetic performances from opening acts Rickey Teetz, Mr Chumps and Celebrityy. Harry Toddler, formerly of the Scare Dem Crew, also delivered some of his many hits to get the crowd going.
Popular Jamaica DJ, DJ Liquid and Noah Powa performed their own songs and other comedy-filled covers. Female Dancehall artists Rre and Shauna Chin also graced the stage.
As the night went underway, Dancehall Veteran Spragga Benz hit the stage to perform a slew of hits, along with Munga Honorable, Agent Sasco, and Elephant Man, who returned to the Sumfest stage after five years.
The undisputed Queen of Dancehall Spice has two costume changes throughout her set, in which she performed old hits as well as songs from her new EP "Black Hiposcracy". Spice also paid homage to incarcerated dancehall artist, Vybz Kartel, who Spice credited for much of her international success.
Dancehall veterans and former rivals Beenie Man and Bounty Killa reunited on the stage together and indulged the crowd in a friendly clash of some of their most popular hits from the 90s and early 2000s.
The dynamic pair made way for rising reggae star Koffee, one of the most anticipated performances of the night. The 19-year-old received overwhelming support from the crowd as she performed her massive hits off the "Rapture" EP which was released this year.
One of the headliners of Sumfest this year, mega-star Chronixx hit the stage to bless the crowd with hit after hit. The Grammy-nominated Reggae artist also brought out his dad, Chronicle and Nigerian Singer, Mr. Eazi to perform their collaboration "She Loves Me".
The early hours of this morning is when the Dancehall acts graced the stage. Dexta Daps, Teejay, followed by Govana who shared his performance with Aidonia kept the crowd going as the sun began to rise.
Two hours after the festival was scheduled to end, Dancehall artist Shane E. hit the stage. Jamaican Police brought the show to an end with Jahvillani being the last performance.
Patrons who were promised a performance by members of the Dancehall crew 6ixx, which features Chronic Law and Squash, were visibly upset as the pair did not hit the stage.
Night 2 gets underway later tonight, July 2, with Buju Banton and Beres Hammond will headline the second night.