A young, dynamic Rain Jarrett sits at the helm of efforts to engage South Florida's Jamaican diaspora youth.
Jarret, in her 30s, is a Social and Behavioral Sciences Professor at Broward College. She assumed the role of youth leader after Consul General Oliver Mair pooled together a small group of young professionals throughout South Florida to begin discussions about building a movement that would adequately represent and serve the diaspora's youth community.
While the group's first meeting was in March, the collective is growing stronger.
"It's crucially important for young people to get involved in the movement, because youth involvement provides a sustainable vehicle for this movement to continue to grow and develop. I think for this transition to be a smoother one, it needs to be a partnership between the older and the younger generations. We have so much to learn from one another," Jarrett told CNW.
Jarrett says her own life has been positively impacted through her involvement with Jamaican diaspora initiatives.
She came to live in the US to attend college in 2001, and explains that the adjustment for her wasn't a seamless one. She missed her family and home, and longed to find ways to connect to Jamaica and its culture while here.
"In 2006 my friend invited me to attend a youth forum at the University of Miami," she recalls. "That meeting provided an opportunity for me to meet like-minded people who were experiencing similar things surrounding identity and assimilation in the US. The meeting also showed me that I have a voice, and how we as young people could make a mark here in the US. That really lit a fire inside me. It made me feel empowered as a young person, and very proud of being Jamaican." Since that event, Jarrett has spent the past 13 years involved in diaspora-related youth engagement and education initiatives in various capacities.
"I really took a backseat in the movement for many years. I observed and tried to figure out what my role was," Jarrett recalls. However, in 2008 she says she decided to go all in, and was selected as a delegate representing the Southeastern US to attend the 2008 Jamaica Diaspora Conference. "It was an amazing experience. I was still very much in the background, but since then I feel like I have grown into my purpose. It took a while for me to figure out my place and contribution. My involvement has become more focused over the years, specific to education and youth development and engagement," Jarrett says.
Over the years, Jarrett has worked with diaspora youth leaders across the US to plan different initiatives, including a youth forum at the University of the West Indies in Kingston, which provided a platform for young people living in Jamaica and abroad to come together to share ideas, network, and establish connections.
She is also involved in the Jamaica Diaspora Education Task Force. "I was a part of the planning committee for the last two education summits that we've had. We hosted close to 200 Jamaican teachers, principals, administration from different schools, to come to South Florida to attend the summit in an effort to get exposed to the education system here, including best practices, curriculum design, STEAM, and professional development. It's been a tremendous success."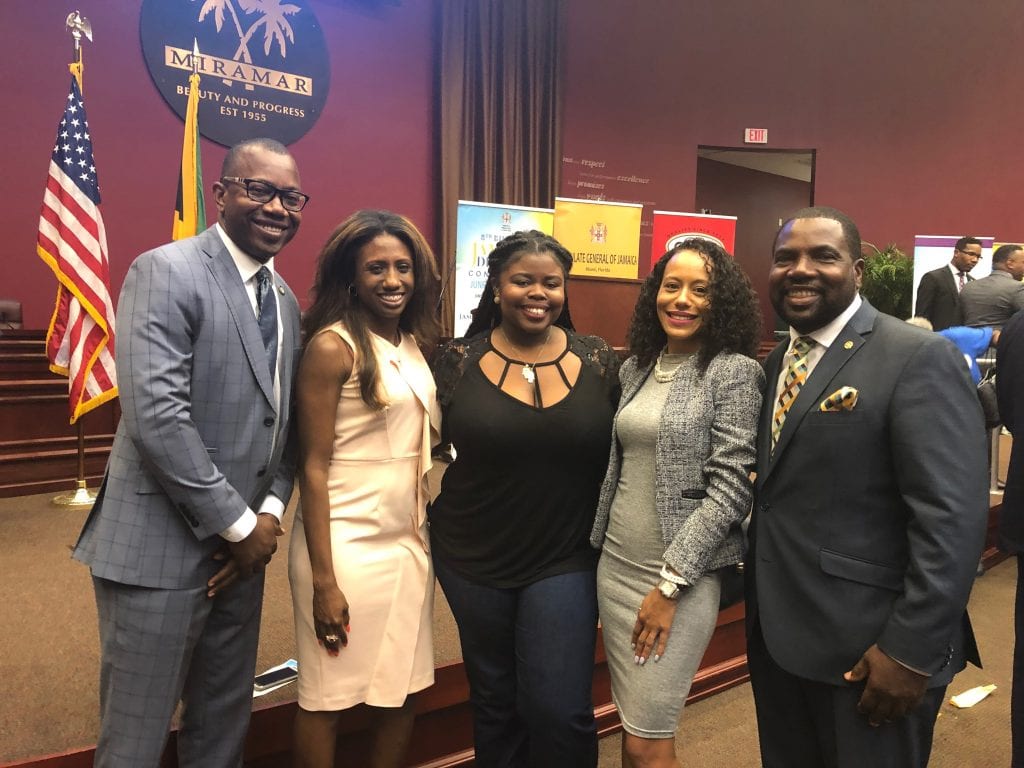 Jarrett is very passionate about the development of Jamaica. "It's a big part of who I am. I'm raising my daughter to identify as Jamaican, but also to see the need in getting involved and lending your time to benefit your community – both here in the US and in Jamaica."
"My parents, being humanitarians at their core, believed in giving back, serving the community, and finding something that lights your soul on fire, but also benefits others. This laid the foundation for me to do this kind of work," she says.
Jarrett's father, Carrot Jarrett, who recently passed, was a member of the famed Third World band. Her mother, Gina Jarrett-Alder, who lives in South Florida as well, is currently battling cancer, but is known throughout the Jamaican community here and at home as a fighter who is steadfast in helping others while on her own journey to recovery.  
"I'm working with the Consul General's office, and by extension the Ministry of Trade & Foreign Affairs, to establish a youth consul as a way to provide continued engagement of the diaspora youth in working towards the development of Jamaica. I'm also representing the youth voice in collaborating with the Ministry in establishing a diaspora policy," Jarrett told CNW.
"What I like about this policy is that it aspires to be inclusive – including Jamaicans of every socioeconomic class, and every racial and ethnic dynamic, and Jamaicans that have been integrated into the system and those who have not – as a way to hear from everyone, and really galvanize the power of the diaspora," she continues.  
Jarrett is currently rallying diaspora youth to join in, and is encouraging youth to attend the Jamaica Diaspora Conference in Kingston this June 16-20, where she will be representing the Southeastern region of the US as a member of the Youth Delegation.
Her message to the youth of the diaspora: "All young people who identify with Jamaica should want a better Jamaica, and it's time for young people to realize that leadership isn't only reserved for the older generation. Being able to sustain the diaspora movement is the key to continuing to help Jamaica reach its sustainable development goals, and the youth have an integral role to play. Find something that makes you excited, something that you're interested in being involved with, and let your voice be heard.
"Get involved!" Jarrett implores.