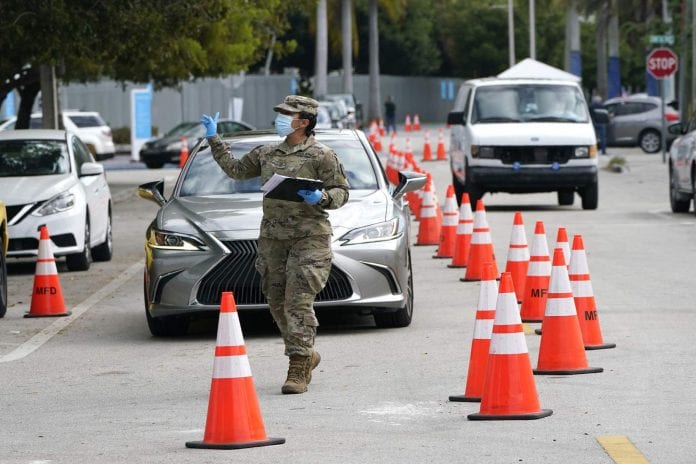 The Health Care District of Palm Beach County marked its 100,000 COVID-19 vaccine milestone on March 27 by announcing a new scheduling system.
The Health Care District streamlined its online COVID-19 vaccine appointment request process to make it more user-friendly and efficient. The online system is available at http://vaccine.hcdpbc.org.
The technology allows those who are eligible for vaccinations to self-schedule the time and location of their vaccine appointment.
"We are excited to roll out this self-scheduling link so eligible adults can quickly and easily schedule their appointments at one of our three large-scale vaccination sites," said Darcy J. Davis, Chief Executive Officer of the Health Care District of Palm Beach County.
"As eligibility expands and vaccine supply increases, we are well-positioned with our new technology to accommodate demand for the next 100,000 vaccinations."
The Health Care District's appointment-only, walk-in vaccination sites are located at the South County Civic Center west of Delray Beach, the Burns Road Community Center in Palm Beach Gardens, and the South Florida Fairgrounds in suburban West Palm Beach.
"In order to achieve our goal of providing as many vaccines as soon as possible, the Health Care District is constantly improving its electronic toolkit to best serve the health needs of our community," said Belma Andrić, MD, MPH, Chief Medical Officer. "The technology supporting patient self-registration is developing rapidly. Thanks to the efforts of our dedicated team of professionals, this process will enhance the patient experience."
The new single-step scheduling form gives patients more control, reduces wait times for appointments and makes it clear where patients stand in the process. Individuals who visit the website can schedule themselves until all appointments are full.
For those with no internet access, the Health Care District's helpline at 561-804-4115 is available to assist in English, Spanish and Creole. Appointments are available based on demand and vaccine supply that is received weekly.