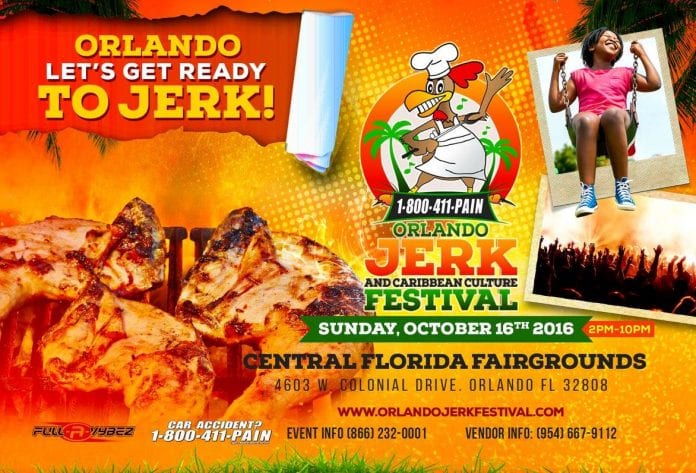 Orlando welcomes Jerk and Caribbean Culture Festival
Next weekend, Sunday October 16 families will make their way to the Central Florida Fairgrounds in Orlando for the 5th Annual Jerk and Caribbean Culture Jerk Festival. The gates open at 2p.m. Children 12 and under are free. 
Jerk Week
The highly anticipated Orlando Jerk Festival has partnered with local Caribbean restaurants to create "Jerk Week" before the big event. Orlando friends and families will receive free tickets to the Orlando Jerk Festival and Jerk Chicken Meals from October 11th to October 14 by simply listening to Star 94.5FM around midday. The first 25 persons who get to the participating Caribbean restaurant when instructed to do so, will win the prizes.
The Lineup
The "Energy God", Elephant Man, Reggae Vocalist, Maxi Priest, the legendary "Queen of Reggae", Marcia Griffiths and Soca's New "Sensation", Lyrikal. The sweet sounds of one of Jamaica's most prized gifts to the world, Reggae Music, coupled with the Smooth Groove of the rocksteady beats, fused with the most popular dance songs will take you on a musical journey. The festival features the best of the best reggae artists to take you there.
The Food
Arguably, the Caribbean Food Festival in Central Florida, boasting an all-star lineup; Jerk Chicken, Jerk Pork, and Jerk Lobster. The festival will be filled with culinary personalities and delicious jerk inspired dishes. The flavors of the Caribbean will unveil itself in the delicious dishes as the aroma permeates the air igniting your tastes buds and urges you to immediately indulge in the different spices of the Islands. With food so good, there must be a Jerk Cook off Master. This will take place in the Jerk Cook-Off Competition, as Chefs will be vying for the coveted bragging rights and trophy in this competition.
Family Fun
Not to be outdone, the Kids Zone landscape features bounce house, face painting and much more. Parents can sip on one of the many event signature drinks while, engaging in a spirited cultural game experience, including domino, ludi, checkers or card games. Come out and meet with old friends and make new ones, all while nurturing all your senses.
Organizers
Executive Director of the Full-A-Vybez, Inc. Damian in association with 1.800.411. PAIN, A Medical & Lawyer Referral Service, are helping to bring the culture and food of the Caribbean to Orlando.