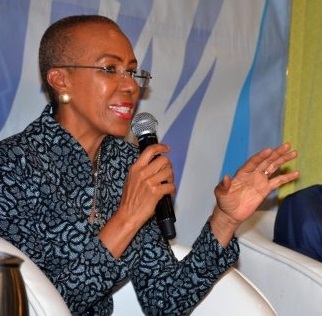 Jamaica's Education Minister Fayval Williams says Mexico and Jamaica will be executing a pilot project under which teachers from the Central American country will teach Spanish to Jamaican students.
Williams made the disclosure following a meeting on Friday with Mexican Ambassador Juan González Mijares.
The Education Minister says the project has vast potential and would involve 30 Mexicans operating from their homeland, teaching some 300 students Spanish in an online environment.
"You can see how scalable that is, as more and more of our children get devices," she said during a handover ceremony for 50 tablets to the John Mills Primary and Infant School under the 'One Laptop or Tablet Per Child Initiative'. The devices were donated to the Kingston-based school by RMP & Associates Limited.
"It opens up possibilities in the education system for greater learning, for more exciting learning to inspire students, and they have these devices at home, at school on a school day, and on weekends as long as you have connectivity," added Williams.
"And we've been doing our part, too, in terms of connectivity, so whenever you go on to the learning management system, you don't have to use up your own data and that's what the ministry is doing to ensure that children get on."
Bring Youth Into Digital World
According to Williams, Jamaica cannot hope to become a completely digital society without bringing its youth fully into the digital world, especially since they will need to possess different skill sets from those Jamaicans raised in the 20th century to be serious contenders in the global economy.
"The world has become more technological. We want our children to be more than just entertained by the technology," said Williams, a former technology minister. "Entertainment is when you put up your picture on social media and WhatsApp and such. We want you to interact with the technology. We want you to learn to program it, so that over time you can become better and develop apps that, who knows, maybe will be used by the rest of the world.
"So we are on an irreversible path in terms of technology in our lives, in our education, and to the extent that we enable our students to use it wisely. We are going to benefit significantly in Jamaica in the years ahead," she told the tablet beneficiaries.
CMC