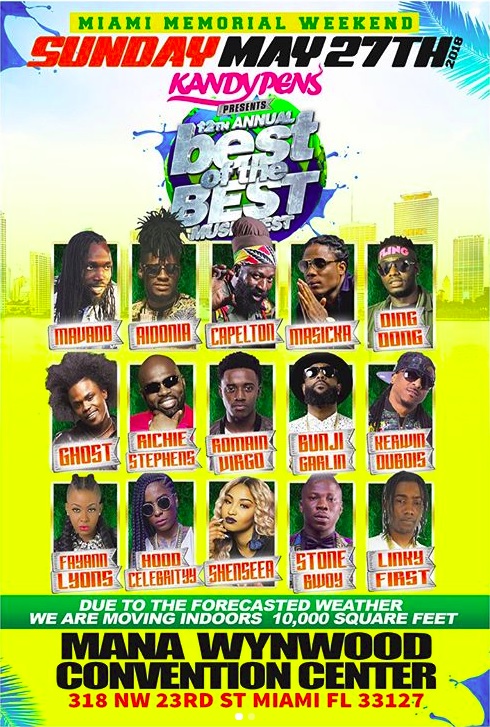 Neither rain, nor wind or any other weather phenomenon will be able to extinguish the hottest concert experience coming to South Florida — this year's Best of the Best  promoters have moved the event indoors ahead of inclement weather.
The event will now be staged at the Mana Wynwood Convention Center located 318 NW 23rd Street, Miami, FL 33127. According to the promoters, the venue will be transformed to create the customary outdoor feel.
Related: Best of the Best concert announces stellar line-up for its 12th staging in Miami
"Safety has always been the first priority, therefore we have decided to take the concert indoors. We can't control Mother Nature, but cancelling the show was NOT an option either. We had to take into consideration all the persons who purchased tickets, purchased flights and booked hotels to be a part of this premiere event and therefore the show MUST GO ON" says co-promoter Steve "Jabba" Beckford.
The organizers have announced that embattled DJ Capleton will be appearing on stage. Capleton is expected to arrive in town on Friday. Of the case, the artiste says he is confident of "the victory of good over evil."
The stellar lineup also includes Romain Virgo, Masicka, Richie Stephens, Bunji Garlin and Aidonia. Bunji Garlin, Fay ann Lyons and Kerwin Dubois will be representing for the soca crowd, and the show promises to please all attendees — and keep them dry.
Gates open at 2pm.
Tickets are currently on sale now at www.bestofthebestconcert.com