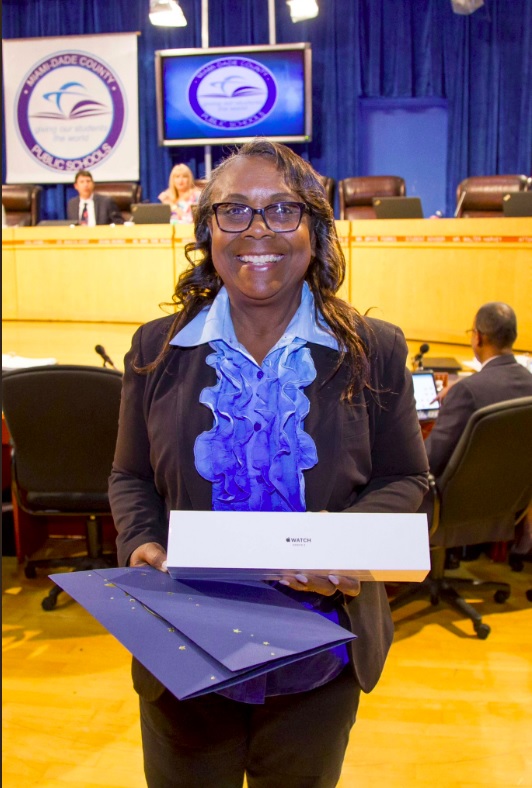 Some 1,341 Miami-Dade County Public Schools (M-DCPS) employees have participated in the Superintendent's 100 Billion-Step Challenge since its launch on March 1st. In this first phase of the challenge, they have walked over a half-a-billion steps. That is actually 523,669,902 steps in a little over three months!
New exciting and energizing program
Earlier this year, M-DCPS contracted with Cigna Health Insurance and the nationally recognized online activity provider Walkingspree to ensure that its employees have a new exciting and energizing program to get healthy, which also helps control health care costs. It's a proven fact that regular exercise decreases blood pressure, increases endorphins, lowers risk of heart health and diabetes, and generally just makes people feel better.
Top walker achieved 1,874,443 steps
The top individual and team walkers were honored at last week's Miami-Dade School Board's regular monthly meeting. Shelia Campbell, a Secretary/Treasurer at Miami Macarthur South, was honored as the Top Walker with 1,871,443 Steps. She was awarded an Apple Watch Series 3. The Top Location was David Fairchild Elementary School with 18,854,221 steps. They received a breakfast recognition. Additionally, each employee registered received a gym bag, infusion cup, lunch box, portion control plate, arm band to hold phone, water bottle and towel.
The 100 Billion Step Challenge will continue through the next school year. Following is a breakdown of winning teams by voting district:
The winning teams
∙ District 1: Norland Elementary (3,695,895 steps)
∙ District 2: Maintenance Service Center 2 (8,793,035 steps)
∙ District 3: North Miami Senior High (10,961,353 steps)
∙ District 4: Ben Sheppard Elementary (10,233,456 steps)
∙ District 5: Miami Springs Senior High (11,289,206 steps)
∙ District 6: David Fairchild Elementary (18,854,221 steps)
∙ District 7: Arvida Middle (12,334,575 steps)
∙ District 8: Coral Park Elementary (5,052,897 steps)
∙ District 9: Airbase Elementary (5,401,141 steps)
Participants of all physical abilities were able to compete against each other, individually or in teams, using the Walkingspree app, which also converts other physical activity into steps and helped them accumulate steps for the competition and giveaways.