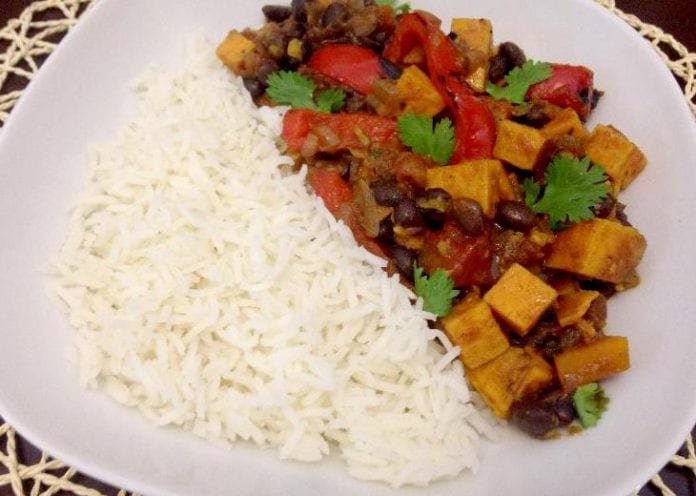 Jerk sweet potato & black bean curry
One pot meals make clean up the kitchen easier you, check out this hearty meal your family won't want to miss.
What You'll Need:
2 onions, 1 diced and 1 roughly chopped
2 tbsp oil
about 50g ginger, roughly chopped
small bunch coriander, separate leaves and stalks
3 tbsp of jerk seasoning
2 pieces of thyme
medium can of chopped tomato
4 tbsp red wine vinegar
3 tbsp of brown sugar
2 crumbled vegetable stock cubes,
2 medium sweet potatoes (3 small), peel and cut into chunks
2 (400g) cans of black beans, rinsed and drained
1 (450g) jar roasted red pepper, cut into thick slices
What to do:
Gently soak the diced onion in the oil in a big pan.
Mix the roughly chopped onion, ginger, coriander stalks and jerk seasoning together.
Add mixture to the onion and fry until fragrant.
Add the thyme, chopped tomatoes, vinegar, sugar and stock cubes with 2 1/2 cups of water and bring to a simmer. Simmer for 10 minutes.
Drop in the sweet potatoes and simmer for 10 more minutes.
Stir in the beans, peppers and seasoning, and simmer for 5 minutes until the potatoes are almost tender.
Can be served over rice or by itself. Opt out the veggies for chucks of meat or other vegetables. Enjoy!