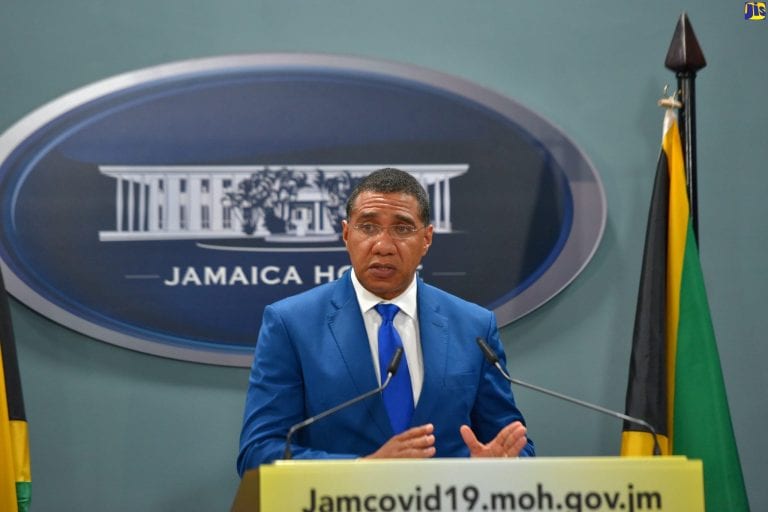 Ahead of the festive season, when the Jamaican government is bracing for increased travel and a rise in COVID-19 cases, Prime Minister Andrew Holness is urging members of the diaspora not to travel unnecessarily.
Holness made the plea in parliament on Tuesday, saying that those who intend to travel home for Christmas should stay put if the travel is not essential.
"I know, as is customary, you may want to come home for Christmas…I'm not saying don't come (but) I'm saying if you don't need to travel to come for Christmas, then reconsider it," said Holness.
He suggested that those who do come should remain in the resilient corridor and by so doing "help our tourism industry".
"Don't leave the resilient corridor to come and look for grandma and auntie; maintain the protocols. And if you come, there is a strict quarantine protocol in place under the Disaster Risk Management Act for 14 days," he stated.
For those visit from overseas, Holness is also pleading with them to celebrate the holidays with their immediate family and within their own households.
"I can only make the appeal because what we wouldn't want to happen is that after you have come, you unintentionally have hastened the departure of your grandmother or your grandfather, or some other member of your family who is in the vulnerable group. I can only bring this to the national forum, bring it to public consideration and make an appeal that if you don't have to travel then don't travel at this period of time," the prime minister added.
Holness also announced the COVID-19 restrictions that will guide the holiday season on the island.
On the three holidays: Christmas Day, Boxing Day and New Year's Day, the curfew will begin at 7 PM to 5 AM. During the rest of December and until January 15, 2021, the curfew will run from 10 pm to 5 am daily. While this is a relaxation from the current 9 pm to 5 am curfew, Holness warns that it could be reversed, depending on whether there is a sharp rise in coronavirus cases coming out of the Christmas holidays.
Meanwhile, in a bid to restrict crowding at a time when there is increased travel, Holness announced that the restriction on gatherings to no more than 15 persons indoors as well as in public spaces. There is also a ban on parties and events for December.
Despite calls from the opposition Spokesman on Health, Dr. Morais Guy to cancel grand market, the annual Christmas Eve shopping and social tradition, Holness made no mention of a cancelation. He urged shoppers and vendors who intend to be out on grand market to wear a mask, sanitize and "shop smartly."
He also urged Jamaicans to be responsible in the way we celebrate Christmas this year.
"These are not normal times and we will not be able to celebrate Christmas in the normal way this year. Celebrating Christmas in the normal way could mean that we will have to keep our schools closed or shut down our economy even more than it is now restricted," Holness warned.
He urged Jamaicans to be vigilant over the next few months, starting with the Christmas season.