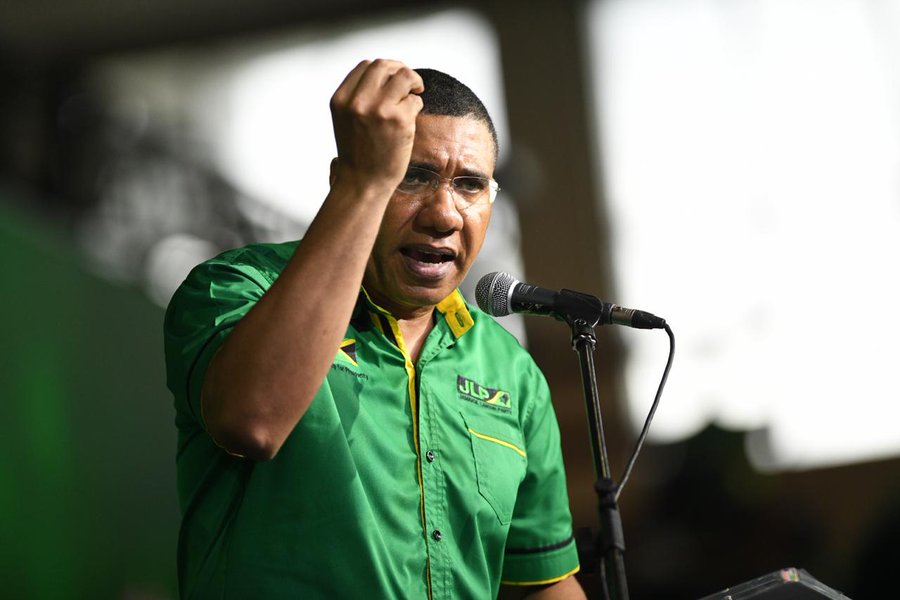 KINGSTON, Jamaica – At the 76th staging of the Jamaica Labour Party (JLP) annual general conference, Prime Minister Andrew Holness teased the possibility of the next general elections in the very near future.
Constitutionally, the general elections are due within five years and three months of the date of the first sitting of the new Parliament; which means that the next election should be held between February 25, 2021 (five years after the date of this election) and June 10, 2021, (within five years and three months of the date of the first sitting of the new Parliament).
Speaking to the thousands of roaring Labourites on November 24, Holness said the general elections are "not too long to come, but we [the JLP] are not there yet."
"Very soon we will have everything in place, and when everything is in place, you will see me reach for the bell", Holness said.
General Secretary of the JLP and Minister of National Security, Dr. Horace Chang also added that with a 2020 general election highly likely, he is confident that the party will be ready to respond. "In the meantime, we will continue the training and recruitment that is ongoing in the party to ensure that we are in the best of shape. We have some time; we'll do it at the right time", he said.
Prime Minister Holness received resounding support from members of parliament as well as guest speakers, Former Prime Minister and JLP leader, Bruce Golding, and Prime Minister of Grenada, Dr. Keith Mitchell who both sang Holness' praises.
"For the three years and nine months that he has been prime minister he has stamped his leadership on this country, and he has ignited the hopes and dreams of the vast majority of Jamaicans, especially young people who see him as an example of what they, too, can achieve," Golding said.
Similarly, Dr. Mitchell said that he is looking forward to Andrew Holness' next tenure as Prime Minister. "Continue to recognize and appreciate the gem that you have in the Jamaica Labour Party and its leader", he said to JLP supporters. "Do not disappoint me. I would like to continue with the next three years as prime minister of Grenada with the vision and support of Andrew Holness."
While Holness and his administration has achieved much since 2016- a decline in unemployment, the conclusion of the IMF program, economic growth, a leading stock market, a new income tax threshold and higher minimum wage, among other positives; his tenure has not been without its challenges.
Holness sought to address the high level of corruption in his administration, which may be among the main reasons that Jamaicans choose not to re-elect him.
"I couldn't leave the stage without saying to you that corruption is an issue that occupies the front of my mind. I couldn't leave here today and not say to you that we still need to tighten up on the anti-corruption systems and framework that exists," he said.
"It is not for want of putting in the legislative and institutional processes. They are there. But you have to bear in mind that we are also very new on the scale of dealing with anti-corruption issues. So there is a learning curve that we are going through," he stated.