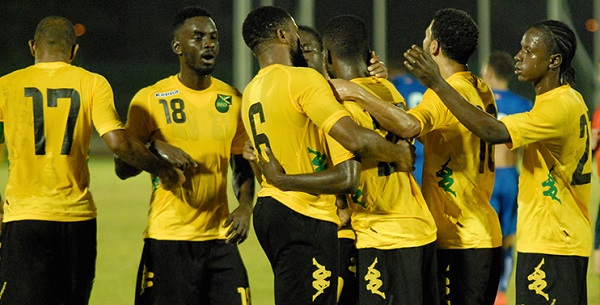 Caribbean kingpins Jamaica begins their quest for a second world cup qualification tonight, when they kick off their final phase of the CONCACAF World Cup Qualification against Mexico inside the Azteca Stadium.   Match time is 10 pm (EST).
The final eight teams – USA, Mexico, Jamaica, Canada, Costa Rica, Honduras, El Salvador, and Panama – will battle until next March, in unprecedented conditions brought on by the coronavirus pandemic .  Teams will play for three automatic places to the World Cup Finals in Qatar next year. The fourth-placed team will earn the right for another shot at Qatar in a continental play-off.
The Reggae Boyz will venture to the high altitude venue severely understrength.  This is after their England-based players were refused permission to travel to countries designated as "red-listed," by the UK Government because of coronavirus.
The English Premier League clubs have also unanimously agreed to block players entering "red-listed" countries to represent their national teams. The clubs' decision was taken so players would not miss club games on their return to the UK.   The Government's "red list" requires 10 days at a managed quarantine hotel for travelers.
Whitmore wants to control what he can
But Head Coach Theodore Whitmore has taken the philosophical position of controlling what he can, and letting everything else be, as he's looking for no excuses.
"We are in a World Cup qualifier and we just have to treat it that way. We have a game to play against the Mexicans tomorrow (today) and we are going there to play the game and hope everyone can give 110 per cent during that game and looking for a positive result," he told the media yesterday evening, less than a day after arriving in Mexico City late Tuesday night.
Following tonight's game, the Reggae Boyz will return home to Kingston on Friday, for a quick turn-around game against the visiting Panama on Sunday.  After that, they travel to Costa Rica next Monday, for the third game in San Jose next Wednesday.
Challenges for Jamaica
With a dozen on his first team plying their trade in England, and thus barred from playing in "red-listed" Mexico and Costa Rica, Whitmore could not deny the challenges faced in that regard.
"It is a challenge (to have new players, some returning after a while, and most of the first team players missing), I'm not going to say it is not a challenge, but the payers who are here, except for Grant (Anthony), would have known each other, would have played at some point for the national team, so they would have known what we are doing, what we want to achieve and come tomorrow (today) we just have to go out there and put our best foot forward."
He said his mind is now on the team here to play the Mexicans, and that will be his sole focus. "What we want to remind the public of is that it's one Jamaica team, not one at home and one away," he said.
He also spoke to the challenges posed by the pandemic. "That's a huge challenge and what we are faced with is the COVID-19 situation and it's not only Jamaica which is affected but we just have to be mentally strong and mentally prepared for the job at hand and go out there and put 110 per cent."
Under such circumstances, the depth of Whitmore player pool will be severely tested as they navigate these qualifiers with three games in seven days, and the same scenario next month.
But despite not being able to call upon the dozen England-based players, Whitmore will depend on some of his veterans who have been in the squad for a number of years.   The ones not in Mexico will remain in Jamaica preparing for Sunday's home game.
"We need every player and a situation like this one goes to show. It's an opportunity for everyone to go out and show what they can do and solidify their place in the national team," Whitmore told the Jamaica Observer during a pre-game interview.
"That's what we want, that when we call a national team we don't have to put players in unfamiliar positions, and that's something I'm always lobbying for and will continue to," the 1998 Reggae Boyz World Cup Final star midfielder added.
Mexico will be Without Star Player
Mexico will be without star Wolverhampton Wanderers forward Raúl Jiménez because of the same red-listed" reasons. But in Rogelio Funes Mori, who proved to be a star at the 2021 Gold Cup, "El Tri" has an able replacement.   Plus, the Mexicans are a powerful footballing nation with extraordinary depth.
They are guided by former Barcelona and Argentina coach, Gerardo Martino, who has seen his team lose twice to the Americans recently.   They went down 2-3 in the Nations League Final on June 6, and 0-1 in the CONCACAF Gold Cup finals on August first.
Tonight Mexico will also be without their very vociferous "12th man," as no spectators will be allowed in the stadium because of FIFA sanctions on the Mexican FA.  The punishment comes after a homophobic slur was shouted by fans in March, during Olympic qualifying matches against the United States and the Dominican Republic in Guadalajara.
Jamaica Getting Better Against Mexico
Jamaica has been getting tighter results against the Mexicans.   In 2013 they held Mexico 0-0 in a World Cup qualifying match at the Azteca, and more recently eliminated them 1-0 from the Gold Cup at the semi-final stage in 2017.
Now Whitmore is hoping for his team to show similar determination and character to the encounter eight years ago.   He knows however, that his strikers will have to be far more clinical in front of goal, than they were at the Gold Cup earlier in the summer.
 "We don't want to come here and be afraid to play against the Mexicans. It's 11 vs 11, so how we apply ourselves and how we manage the game are going to be important.
"In the last [2021] Gold Cup I think what let us down was in the final third and not scoring. We're not going to get a lot of chances and we know they will have the majority of possession, but we need to get one or two chances and put them away," Whitmore said.
In other CONCACAF qualifiers today, Canada will host Honduras, Panama welcomes Costa Rica, and El Salvador entertains the United States.
Jamaica squad: Andre Blake (capt.), Dillon Barnes, Dennis Taylor, Damion Lowe, Adrian Mariappa, Alvas Powell, Kemar Lawrence, Devon Williams, Junior Flemmings, Cory Burke, Shamar Nicholson, Oniel Fisher, Blair Turgott, Norman Campbell, Ricardo Morris, Anthony Grant, Tyreek Magee, Lamar Walker, Peter Vassell, Javon East, Romario Williams, Javain Brown, Richard King.