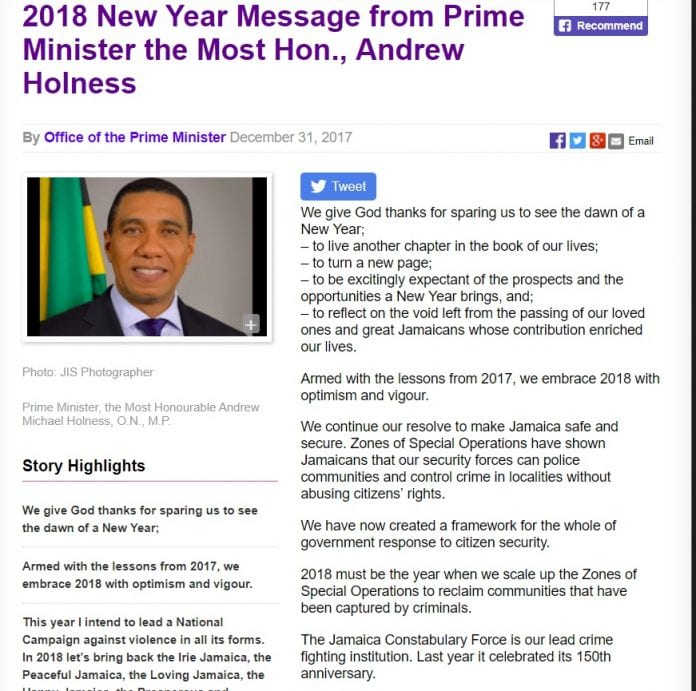 Prime Minister Andrew Holness says he will lead a national campaign against all forms of violence as Jamaica recorded more than 1,500 murders in 2017.
"In 2018, we must do more to protect our women and children from violence. Indeed we must all do more to reduce the level of violence and aggression we use in our daily life and social transactions," Holness said in a New Year's Day message to the nation.
Figures released by law enforcement authorities showed that the island had recorded a 21 per cent increase in murders, one week before the end of 2017.
Violence  – a threat to civility
The Jamaica Constabulary Force (JCF) Periodic Serious and Violent Crimes Review revaled that 1, 581 people were murdered, an increase of 257 for the corresponding figure last year.
In his message, Holness said  – "our acceptance of violence as a means of resolving conflict, is taking away from the good natured, loving and hospitable people we are.
"It is threatening our civility and sensibilities and introducing a crassness which undervalues life," he said, adding "this year I intend to lead a national campaign against violence in all its forms.
"In 2018 let's bring back the Irie Jamaica, the Peaceful Jamaica, the Loving Jamaica, the Happy Jamaica, the Prosperous and Progressive Jamaica," he said.
Holness also indicated that 2018 must be the year when the authorities will scale up the Zones of Special Operations to reclaim communities that have been captured by criminals.
JCF in need of "critical reform"
"The Jamaica Constabulary Force is our lead crime fighting institution. Given the current crime situation it is without question that the JCF needs critical institutional reform to be able to effectively lead the fight against crime.
Holness said the recent discovery of over 100 illegal guns destined for Jamaica is another indication of the depth and extent of the problem.
"The importation of weapons cannot be viewed narrowly within the prism of street crimes and gang on gang warfare, this is a direct threat to the national security of the state and the facilitators and traffickers will be treated as such.
"Illegal weapons and the organized criminal network around their procurement, importation and distribution are national emergencies and will get national attention in 2018 which will include amendments to the Firearms Act, amendments to the Anti-gang Legislation and amendments to the Bail Act.