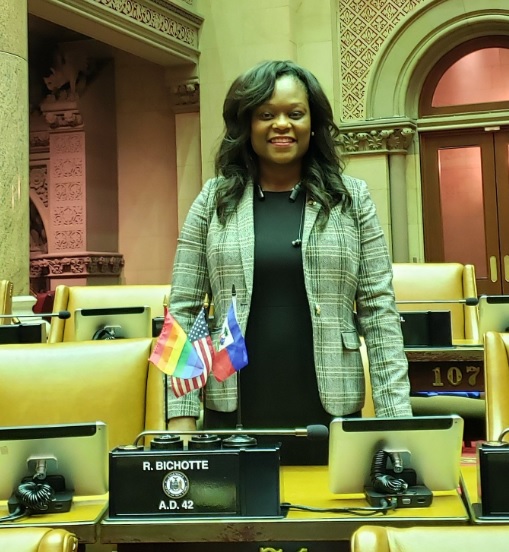 NEW YORK, CMC – A Haitian-American legislator in New York City joined her Caribbean American colleagues in welcoming the New York Legislature's passage of a bill that for the first time provides undocumented Caribbean and other immigrant students access to New York State financial aid and scholarships for higher education.
New York State Assembly Member Rodneyse Bichotte, the daughter of Haitian immigrants, who represents the 42nd Assembly District in Brooklyn, has applauded the passage of the New York State DREAM Act, sponsored by Assembly Member Carmen De La Rosa and Senator Luis Sepulveda.
Creates easier pathways
"After six long years of lingering the Senate, this bill is finally off to the Governor's office for signing," said Bichotte, stating that the New York State DREAM Act, seeks to create a DREAM fund commission and a DREAM fund in order to advance the educational opportunities for undocumented Caribbean and other children by providing scholarships to college-bound students.
The bill will also create easier pathways for undocumented families to obtain college tuition savings assistance and financial aid.
"I'm proud to support the right of children to pursue higher education, regardless of their immigration status," Bichotte told the Caribbean Media Corporation (CMC). "These DREAMers should be able to do so without the many obstacles laid out for them, such as ineligibility for scholarships, financial assistance and college tuition savings programs.
DREAMERS contribute to the economy
"It is a known fact that Dreamers have been contributing to our economy and society, and that it would only make sense for us to extend opportunities that will better themselves and the world around them," added Bichotte, whose Brooklyn district encompasses the predominantly Caribbean of Ditmas Park, Flatbush, East Flatbush and Midwood.
Bichotte – currently the chair of the State Assembly's Subcommittee on Oversight of Minority and Women-Owned Business Enterprises (MWBEs) – said undocumented students have been a boon for the US economy, citing a report by the Center for American Progress, which states that immigrant children protected under Deferred Action for Childhood Arrivals (DACA) would contribute an estimated US$400 billion to the US gross domestic product over the next decade.
If the Federal Dream Act were passed, it would illicit US$22.7 billion annually over the next decade, the report says.
In a clear rebuke to US President Donald J. Trump's draconian immigration policies, the New York Senate Majority Conference on Wednesday passed the José Peralta New York State DREAM Act.
The measure passed the New York State Senate 40-20 and the New York State Assembly 90-37.
New York Governor Andrew Cuomo said he will sign it into law.