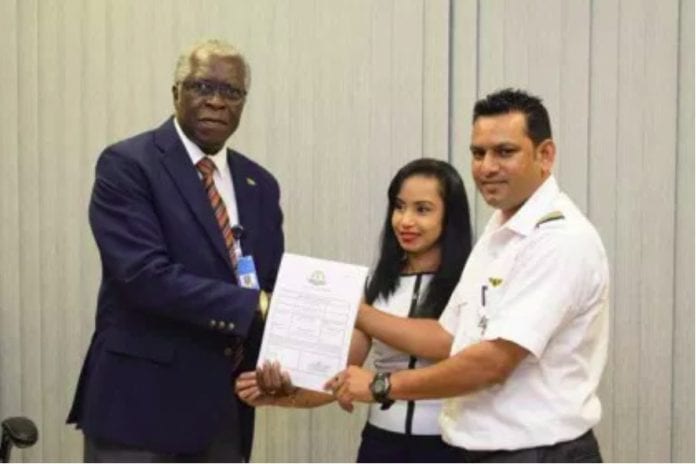 The Guyana Civil Aviation Authority (GCAA), has certified Domestic Airways Incorporated – the first airline to enter the domestic market in two years.
On Monday, Director-General, Guyana Civil Aviation Authority (GCAA) Lieutenant Colonel (retd), Egbert Field, presented Air Operators Certificate to the airline.
"Before an operator can operate for profit and reward he is expected to display and to show that his operation has all the components required by ICAO and that he can ably and also safely conduct the operation as stated by ICAO," Field said.
He noted that the certification process involves five phases.
"It's a back and forth exercise because most times the applicant does not include all the documents in the manual so these corrections are made and sometimes it takes months with the documents," Field explained.
Prior to the certification, Domestic Airways Incorporated operated privately. According to the airline's captain, Orlando Charles he is grateful that the airways can now operate publicly as well.
"We have been using our aeroplanes for private, not for public or monetary gain or for charter. With the conclusion of the application process and the certification, we are now eligible for charters from individuals or companies. I am very thankful to the Civil Aviation Authority for this opportunity," Charles said.
Domestic Airways Incorporated has been in operation for approximately three years.