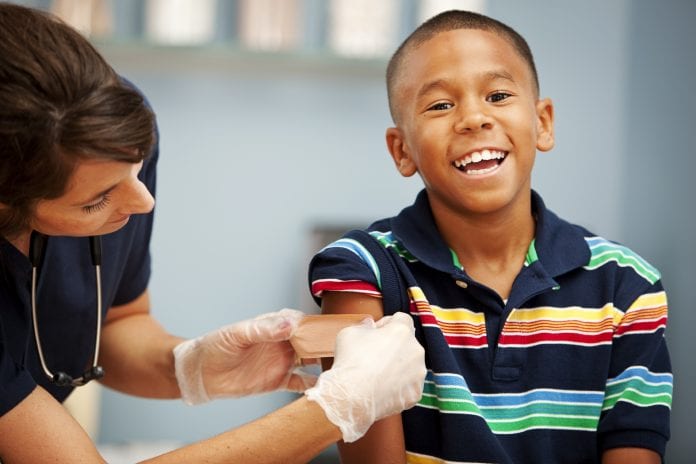 Free Back to School Immunizations
By Bob LaMendola
Florida Department of Health in Broward County
Before you know it, summer vacation will be gone and the kids will have to get ready for school again. So, it's time for parents to start planning to get back-to-school immunizations.
The best choice is to take the kids to your family doctor to get their shots. But for parents who do not – or cannot – take their children to a physician, county offices of the Florida Department of Health (DOH) are offering free immunizations over the summer. DOH-Broward will offer them again at Lauderhill Mall from August 8 through 23.
"Vaccines have helped us wipe out diseases that used to kill our children by the thousand," says Dr. Paula Thaqi, Director of the DOH in Broward County. "Parents who want to protect their children should have them fully immunized."
Skipping immunizations does matter. In South Florida and elsewhere in the U.S., a few unvaccinated children have come down with cases of measles, chickenpox and whooping cough.
Florida law says children cannot start school unless they have received all vaccinations that protect against nine contagious and potentially fatal childhood diseases. Every year, parents and school officials get headaches when children cannot be admitted on the first day of classes because of missing shots.
Back-to-school Immunizations are especially important for children entering kindergarten and seventh grade, because different requirements begin at those grade levels. Vaccinations required for school include:
Diphtheria, tetanus and pertussis (whooping cough) – Four or five doses of DTaP vaccine for babies and pre-schoolers. A booster dose, TDaP, before seventh grade.
Polio – Three to five doses of vaccine for babies and pre-schoolers.
Measles, mumps, rubella (German measles) – Two doses of MMR vaccine for babies and pre-schoolers.
Varicella (chickenpox) – Two doses of vaccine for babies and pre-schoolers. A booster dose before seventh grade.
Hepatitis B – Three doses of vaccine for babies.
Parents can also consider additional protection for the children, by giving other immunizations that are not required for school but are recommended by federal health officials. These include vaccines against flu (every year starting at age six months), rotavirus (three doses for babies), Haemophilus influenzae B (three to four doses for babies), pneumococcal disease (four doses for babies), hepatitis A (two doses for babies), human papilloma virus (three doses at age 11 or older) and meningococcal disease (two doses at age 11 or older).
But for back-to-school needs, DOH gives free shots provided through the federal Vaccines for Children program:
DOH-Broward – Free school shots at two Department health centers and August 8 through Tuesday Aug. 23 at Lauderhill Mall, 1267 NW 40 Ave. Evening hours on Thursdays, family fun day / health fair on Saturday, Aug. 13.