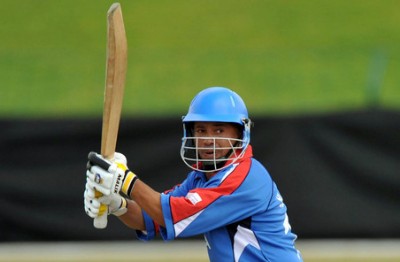 HAMILTON, Bermuda, CMC – Glenn Blakeney, a hard-hitting former Bermuda batsman known as the "Master Blaster", has died after complications from a prolonged struggle with cancer.
His father, also named Glenn, a former Progressive Labor Party cabinet minister, said his son, who would have turned 46 on January 22,  died surrounded by close family members at a Long Island, New York, hospital.
Kidney cancer was diagnosed in March 2013 and the man who had dominated on the cricket field for so long accepted that he was in for another battle, the Royal Gazette newspaper said.
His father described his son's demeanor as "brave" over the past few years.
Blakeney came to prominence as a flashy young left-hander with Hamilton Parish Workman's Club in the late 1980s. He made his Bermuda debut in 1993, but his ICC Trophy Tournament debut did not come until the 1997 tournament in Malaysia, after which he was a regular.
He played two One-Day Internationals in 2009 during the ICC World Cup Qualifiers in Potchefstroom for the 2011 showpiece, along with a single first class match in the ICC Intercontinental Cup against United States in 2004.
In 20 innings in Cup Match, Bermuda's leading annual domestic fixture, between 1991 and 2012, he scored 621 runs with an average of 34.50 and a high score of 104.
Amid a flurry of runs both here and overseas, Blakeney enjoyed a prosperous 1995 summer in England with club side Benwell Hill in the Northumberland County League, in the north of England, where fellow Bermudians Clay Smith, Dean Minors and Greg Foggo also had stints.
But it is on home soil where Blakeney is best remembered as the only modern-day cricketer to three times amass scores in excess of 200 — 245 for St David's against Willow Cuts in August 2001, 303 not out for St David's against Bailey's Bay in August 2002, and an Eastern Counties-record 218 for Bailey's Bay against Flatts in August 2011.