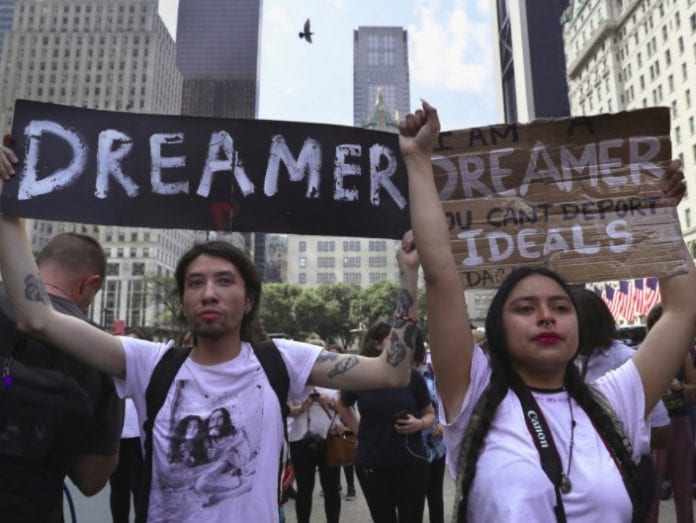 A judge from the Federal District Court said the Trump's administration's decision to terminate the program was based on "virtually unexplained grounds."
Unlawful! That's what the judge from the District of Columbia labeled the Trump administration's senseless and racist decision to end Deferred Action for Childhood Arrivals (DACA), the program that shielded young people from deportation. The program has been a resounding success, with 95% of DACA recipients either working or going to school and a whopping 87% of the country in favor of a permanent solution for DACA beneficiaries. This court decision will allow nearly one million eligible immigrants who qualify for DACA to apply for protection from deportation.
The following is a statement from Maria Rodriguez, Executive Director of Florida Immigrant Coalition (FIC):
"The Florida Immigrant Coalition and our allies applaud the court's rightful decision to reverse the administration's vile attempt to end deportation protection for young undocumented immigrants.
However, we realize this is only a temporary solution to the increasingly dire situation for Dreamers and TPS holders facing imminent deportation, especially with a 90-day delay in the order that gives the Trump administration more chances to vigorously pursue an end to DACA. We demand a permanent solution for our Dreamers and TPS holders. We hold our community close and stand ready to defend our families and loved ones from ICE raids, detention and deportation. If you need support or want to know learn more about your rights, call our hotline: 1-888-600-5762."
The following is a statement by Monica, a South Florida DACA beneficiary and researcher
"Had it not been for DACA, I would have had been forced to leave the country I grew up in instead of the opportunities I've had thanks to DACA that have allowed me to become a researcher of Chronic Fatigue Syndrome. Our elected officials should consider the dreams and families they're destroying. … There's a generation of Americans they're threatening to force out of the country… even though we really are Americans at heart."
We at the FIC continue to fight tirelessly and demand elected officials create a permanent solution for our young immigrants before it's too late. With growing bipartisan support, we join in urging Congress to take action and pass legislation that will provide a permanent solution for DREAMers and protect the more than 300,000 immigrants with temporary protected status from over 13 counties, including Haiti, El Salvador and Honduras.
Learn more about our free legal clinics, including legal advice regarding DACA renewals by calling 1.888.600.5762.