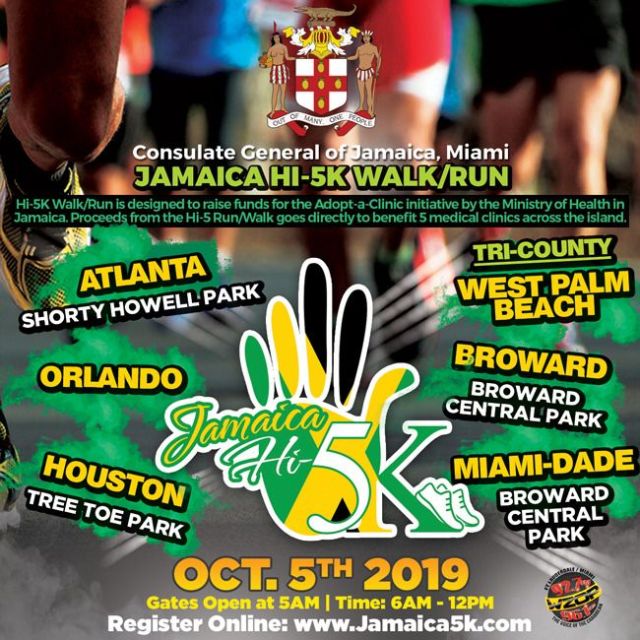 SOUTH FLORIDA – Early registrations and training exercise indications for the inaugural staging of the Jamaica Hi-5K Run/Walk scheduled for Saturday, October 5, is that the event is attracting large groups of supporters, in the five Diaspora areas where the event is scheduled.
The Jamaica Moves/Adopt-A-Clinic (AAC) initiative was launched in Fort Lauderdale by Jamaica's Minister of Health and Wellness, Dr.  Christopher Tufton, during Jamaica's Independence celebrations.  The initiative seeks to engage private and public sector partners in the Diaspora to play a critical role in improving access to primary healthcare for people in Jamaica in 100 clinics identified across the island. The goal of the collaboration between Jamaica Hi5-5k and Jamaica Moves is to secure commitment for at least five clinic adoptions under the AAC initiative.
The Jamaica Hi-5K Run/Walk event will begin promptly at 7:00 a.m. simultaneously across five Southern Diaspora areas, namely Atlanta, GA; Houston, TX;  Orlando, FL; and  South Florida; all of which are collaborating to impact healthcare and wellness in Jamaica.
The Inaugural staging of the event in South Florida is scheduled for the Central Broward Regional Park in Lauderhill. The event is an initiative by the Consul General, Oliver Mair in association with the Jamaica Moves/Adopt-A-Clinic (AAC) to raise funds, and awareness for primary healthcare in Jamaica
This community event is intended to bring together families and friends in each Diaspora area to kick-start another health experience.  The day will be filled with various activities including walk/run, kiddies' zone, health screening and awareness workshops.
Consul General Mair in a recent meeting at the Consulate said, "I am excited about the Jamaica Hi-5K. It's an opportunity for the community to coalesce in support of healthy living here in the Diaspora region and in Jamaica."