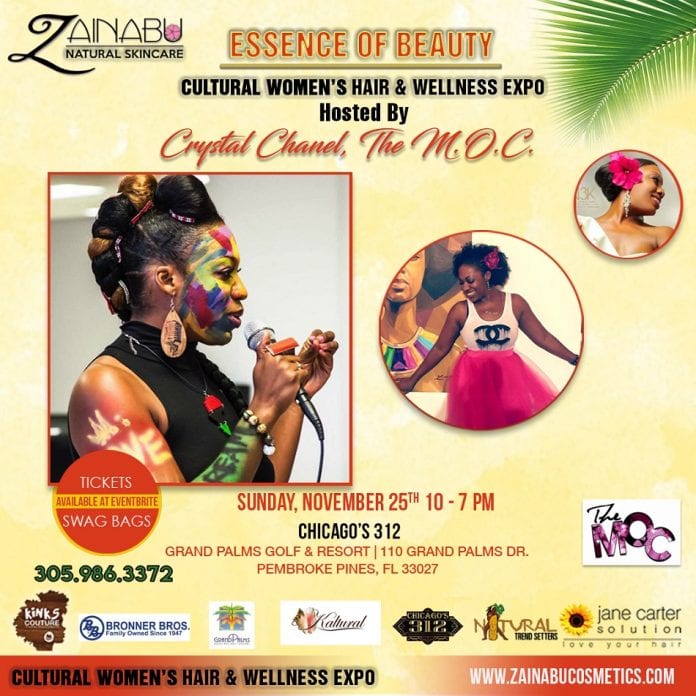 Zainabu Natural Skincare Corp will be hosting their annual "Essence Of Beauty Cultural Women's Hair & Wellness Expo" on Sunday, November 25th 2018. This one-day event will feature quality exhibitors with cutting edge brands in the beauty, hair and health industry. The event will be held at The Grand Palm Resorts which is located at 110 Grand Palm Blvd in Pembroke Pines Florida. The Expo will take place at Chicago 312 in the Grand Palms Hotel from at 10:AM to 7:PM providing something for the whole family.
Featuring Jamaican designer Simone Gordon
The Essence Of Beauty VIP Brunch and Fashion Show featuring designs by International Jamaican Designer Simone Gordon of TNT Design House will open the event. During the Brunch Essence Of Beauty Expo will give away baskets with hair products as well as beauty services from our local salons. This event will be held at Chicago's 312 which adjoins the exposition hall.
The exhibitors will be conducting dynamic workshops, hair care demonstrations, airbrush applications, African head wrap classes, Zumba, poetry, African dance and panel discussions on topics that will help improve the way we feel about natural hair, beauty, health and aging.
Celebrating natural beauty
Zainabu, together with Natural Trendsetters and Kinks Couture Salons felt the need to get the community together to celebrate our natural beauty, hair and health. For tickets go to Eventbrite and for more information go to www.zainabucosmetics.com or contact Marjorie Hollingshead at 305.986.3372.
About Zainabu Natural Skincare
Marjorie Hollingshead founder of Zainabu Natural Skincare Corp. and organizer of "The Essence Of Beauty" Cultural Women Hair & Wellness Expo, launched Zainabu in 2006. Her goal is to teach all  women and young girls of color the essence of beauty and the importance of self-esteem. All the products are natural, they are created without animal testing, parabens, GMO's or other harmful ingredients. The focus is to provide clients with products made with the best possible ingredients.
Zainabu products are handmade in the business' facility in Miami and can be found at the Yellow Green Market on in Hollywood Florida, as well as over  40 beauty shops in the United States.