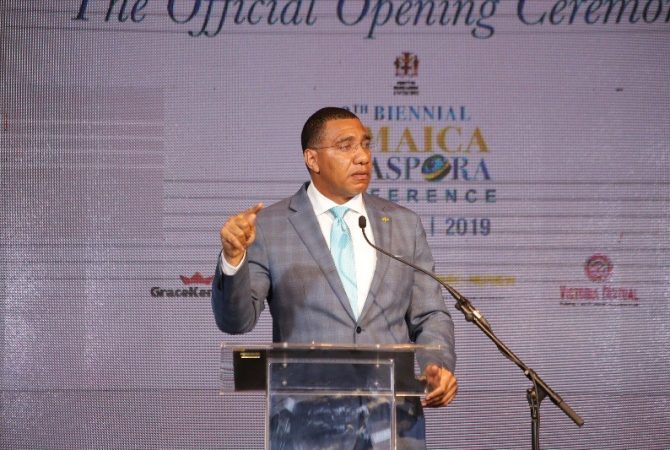 Jamaicans from Diaspora communities in the US, UK and Canada, who attended the opening ceremony of the 8th biennial Jamaica Diaspora Conference in Kingston on Sunday, June 16 were encouraged to hear the Jamaican government is placing special emphasis on national security investment. 
Addressing the audience at the Jamaica Pegasus Hotel in New Kingston, Prime Minister Andrew Holness attempting to assure the Diaspora that the Jamaican government has made significant investments in the country's national security infrastructure to make Jamaica and Jamaicans safer. made over the last two years to strengthen the country's security architecture.
Largest investment ever
Holness said this year, to date, the Government has spent approximately $20 billion to enhance national security, "the most ever been spent on national security in Jamaica". He said priority is being given to the continued expense to ensure Jamaica can effectively respond to the challenges of the modern world, making reference to the positive development of "Plan Secure Jamaica."
The focus of this plan includes crime prevention and the cyber security of the Jamaican banking sector, ports, telecommunications, tourism, new logistics operations, the business process outsourcing (BPO) sector, among other areas.
"We have to be able to secure ourselves, not just from the conventional threats, but from the new and emerging threats, for example, in the cyber domain," Holness said.
Previous reports indicate the Jamaican government has been collaborating with Israel to improve the country's cyber security.
The prime minister said that the country is implementing  plans to protect its borders against the illicit trade and trafficking in guns, drugs, and humans; activities which help to support the growth and activities of criminal gangs.
Diaspora must exercise influence
Holness also appealed to the Jamaica Diaspora to exercise  influence in addressing crime and violence in their homeland. One way this support could be done is for those living overseas to encourage relatives and friends in Jamaica to give their support to Jamaican law enforcement, particularly in "providing information to law enforcement and allowing law enforcement to do their work."
After the opening ceremony several delegates were overheard in in conversations expressing optimism and pleasure in Holness' assurance of the priority being given to national security. A delegate from Canada, was unabashed in loudly exclaiming for all who could hear to do so, "I hope Holness not just saying what we want to hear, and he is really about improving national security."
In a survey conducted within the Diaspora earlier this year, the majority expressed that national security, particularly crime and violence, were there main concern. While several Jamaicans living overseas are interested in returning to Jamaica to reside, news of crime and violence in the country has persistently served as a deterrent.
The theme of this year's Diaspora Conference, held at the Jamaica Conference Centre in downtown Kingston, and hosted by the Ministry of Foreign Affairs and Foreign Trade, was 'Jamaica and the Diaspora: Building Pathways for Sustainable Development'.
The conference ends today, June 20.