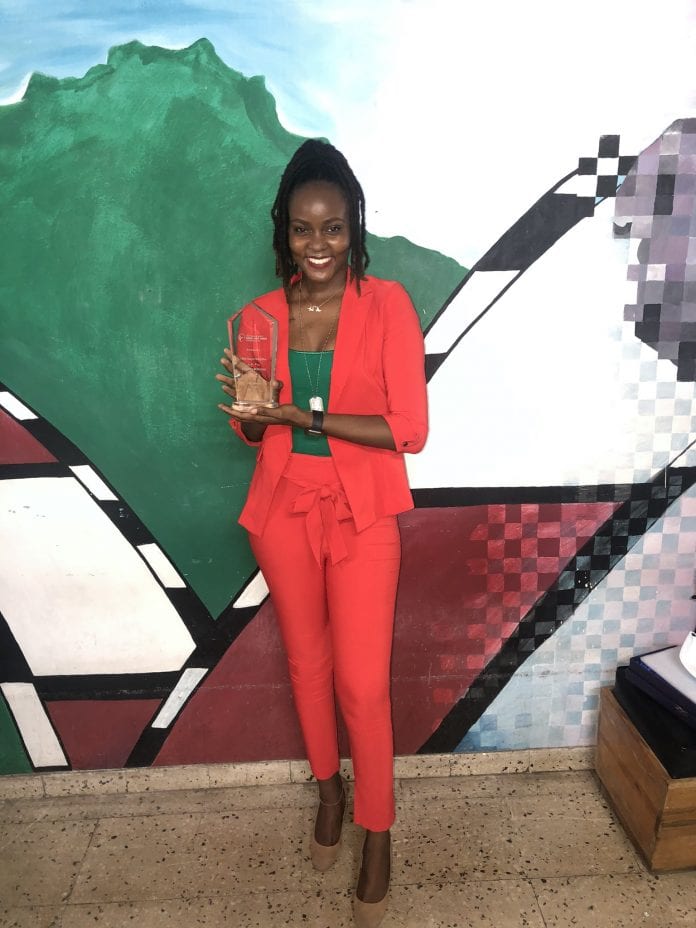 Among the 30 outstanding Jamaican youth who were presented with a 2020 Prime Minister's National Youth Award is CNW Presenter, Abi-Gaye Smythe.
Smythe, the host of CNW90 on Mondays, Wednesdays, and Fridays, was awarded in the category of nation-building during the virtual awards ceremony on Sunday, December 13. She was honored for her philanthropic efforts.
Abi-Gaye lives with Arrhythmogenic Right Ventricular Dysplasia (ARVD), a rare and progressive disease.
A diagnosis of ARVD essentially means that the right side of Abi's heart does not function as it should. The right ventricular wall is thinner and her heart is slightly bigger than it should be. She has two leaking valves which can cause her heart to race to the point where it can send her into cardiac arrest at any time. Since her diagnosis, Abi has been wearing an Implantable Cardioverter Defibrillator, which monitors every heartbeat and corrects irregular heartbeats.
In 2013, she started the 'I Have A Heart' Foundation which aims to raise awareness on heart disease. She says her long term goal is to help source financial support for persons with heart diseases and to form support groups. She also has plans to do more to raise awareness of heart diseases including a school tour and more public education work through social media.
In 2019, she met with Prime Minister Andrew Holness, who said that he was touched by her story.
Other young Jamaicans were recognized for their contributions to science and technology, arts and culture journalism, youth development, sports and academics. The other recipients included 2019 IAAF World Champion long jumper, Tajay Gayle, founder of Street People Liberation, Ashli-Ann Broughton, CEO of PreeLabs tech company, Yekini Wallen-Bryan, among others.
Some 70 youth were nominated for awards this year, which were presented during a virtual ceremony under the theme: 'Resilient Through Entrepreneurship, Training Hope, Innovation, Networking and Knowledge: Rethink.'
Addressing the awardees, Prime Minister Andrew Holness said investing in youth and education are the greatest investments Jamaica can make in its future. He said it's important for Jamaica to celebrate it's youth and their achievement.
"The efforts of young entrepreneurs to make the bold step to start up businesses, or youth leaders making a difference in their communities, are often not highlighted," he commented.
"The projects you undertake, the experience and passion you bring will change the lives of others and are of great value," he told awardees.
Minister of Education, Youth and Information, Fayval Williams said the achievement of the awardees is an affirmation of their commitment to nation-building.
"Our young people today are finding new ways of being innovative, creative in various sectors, especially as you navigate and manipulate new technologies," she said.
She also applauded them for their keen involvement in civic society to engender inclusiveness and improve decision-making.
Williams said the ministry will be creating regular and sustained avenues for youth to partner with government and society on issues that matter to them.