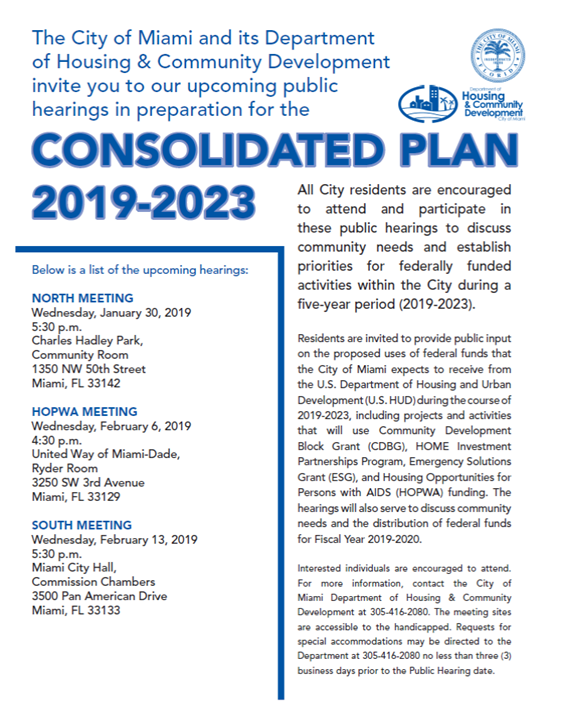 The City of Miami Department of Housing & Community Development (DHCD) invites City residents and stakeholders to provide input at three upcoming public hearings, to help identify and address housing and community development needs and priorities. This community input will inform DHCD as it prepares the City of Miami Consolidated Plan (CP) 2019-2023.
Addresses housing and community development
The City of Miami Consolidated Plan 2019-2023 and Action Plan FY 19-20 (October 1, 2019 through September 30, 2020), which the City will submit to the U.S. Department of Housing and Urban Development (HUD) this summer, will identify strategies to address the housing and community development needs of primarily low- and moderate-income persons utilizing the federal funds the City receives annually from HUD. HUD funding sources include the HOME Investment Partnerships Program (HOME), Community Development Block Grants (CDBG), Housing Opportunities for Persons with AIDS (HOPWA) and Emergency Solutions Grant (ESG) funding.
 
The final Consolidated Plan will detail how these federal funds will be used to help provide affordable housing, public facilities, street improvements, public services, and facilities and services for the homeless and special needs persons. All hearings are open to the public and will be held as follows:

NORTH MEETING 
Wednesday, January 30, 2019, 5:30 p.m. 
Charles Hadley Park, Community Room 
1350 NW 50 St.
Miami, FL 33142
 
SOUTH MEETING 
Wednesday, February 13, 2019, 5:30 p.m. 
Miami City Hall, Commission Chambers (Staff Room)
3500 Pan American Drive
Miami, FL 33133
 
HOPWA-specific public meeting 
Wednesday, February 6, 2019, 4:30 pm
United Way of Miami-Dade, Ryder Room
3250 SW 3 Ave.
Miami, FL 33129
 
City of Miami residents can also submit their input by taking one of our Consolidated Plan online surveys, including a Housing-related version and Non-Housing Related version.

The public hearing sites are accessible to the disabled. Requests for special accommodations may be directed to the (305) 416-2096 no less than three (3) business days prior to the Public Hearing date.