Geoff Lee is the Executive Chef of Mana Poke, the Caribbean owned Hawaiian inspired restaurant where healthy eating and exotic, adventurous flavors harmoniously co-exist.
Geoff spent his youth between Spanish Town in the parish of St. Catherine, and Kingston, the capital city of Jamaica. Ever since he was a young man, he had an incredible passion for cooking. He always enjoyed preparing food but never thought to explore it as a profession. Initially, only his family and friends usually reaped the benefits of Geoff's home cooking, but having first hand sampling of his dishes, they pushed him to expand his knowledge of cooking and have a shot at becoming a chef.
So, It was with his family's prodding that Geoff left Jamaica to attend culinary school at the George Brown College in Toronto, Canada. In Canada, he worked under the tutelage of some amazing chefs that helped pave the way for him to excel in the culinary field.
"Becoming a chef has not only taught me about the culinary world but I've gained a wealth of knowledge about becoming a business owner and what it is to manage," said Geoff. "The cooking always came natural and I find it to be the easiest part of being a professional chef. Where it becomes interesting is the business side of becoming a chef, this has been the most challenging part of the journey thus far."
Geoff has been recognized for his exceptional cuisine by collecting a number of accolades in the culinary industry. He was Indulge Magazine's featured chef in the fall of 2019, named Miami New Times Readers' Choice "Best Chef 2019" and was the featured chef at the SOBE Food & Wine Taste Jamaica 2020.
When asked about his current role as the Executive Chef at Mana Poke and why the focus on Hawaiian gastronomy, he mentioned he was inspired by Asian fare and appreciates and enjoys Japanese food, particularly sushi. "The flavors are clean, the poke bowls are filling without being heavy, its healthy and delicious. Poke is also a very flexible canvas to work with if ever I decide to incorporate a Jamaican spin" he added.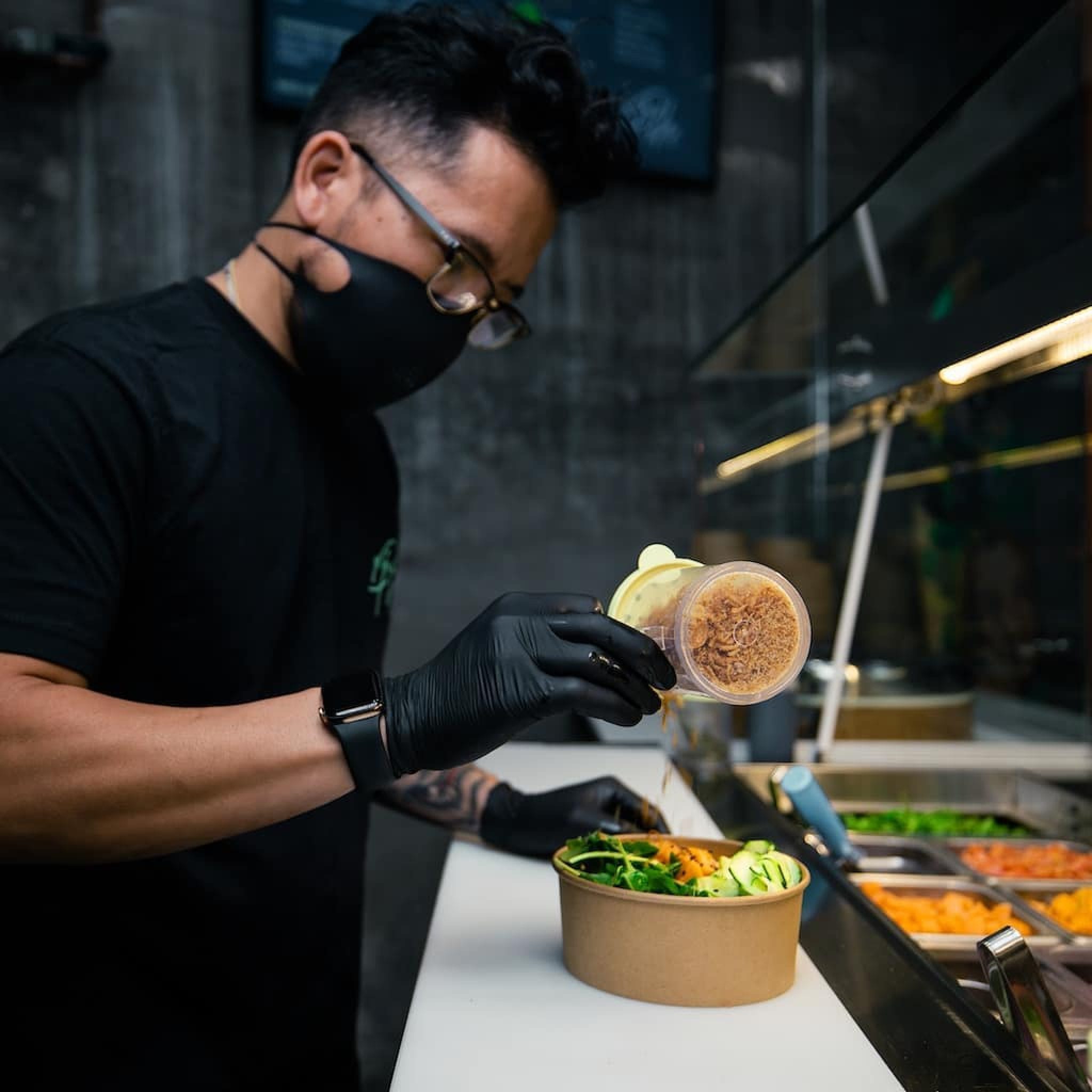 Geoff's favorite dish at Mana Poke is the Lava Tuna bowl which features spicy tuna, shaved red onion, house picked jalapeno peppers, spicy mayo, wasabi peas, crunchy shallots and more all on a bed of fresh arugula or sushi rice.
When Chef Lee is not busy building healthy and delicious poke bowls, you can find him on a football (soccer) field or rooting for his beloved Manchester United
In addition to poke, Geoff is passionate about his Jamaican roots and makes an amazing jerk pork dish. His secret? "It sounds simple, however jerk pork requires a good amount of cooking knowledge like heat management, timing and other techniques to achieve a good end product. Of course, I love spicy food and jerk is where it's at!"
Mana Poke has three South Florida locations (Downtown Miami, Coral Gables, and Ft. Lauderdale Beach).