Defending champions hold on to pip KC by 3 points in ISSA Boys Champs
Defending champions Calabar pulled out all the stops to hang on to their Inter Secondary Schools Association (ISSA) Boys Championships title by the narrowest on threads at the National Stadium in Kingston.
In what could be classified as the most exciting Boys and Girls Championships in the 107 year history of the competition, the boys from Red Hills Road had to wait until the final event of the five-day championships to be declared winners.
That race, the 4X400 meters relay saw Calabar on 305 points, four behind pre season favorites Kingston College (KC). While being installed as the overwhelming favorites to sin the relay, the re were jitters in both camp as if KC had finished within the fram they would have secure enough points to dethrone Calabar. As it turned out, the green and black clad Calabar romped the event, but try as they might, the 'purples' from KC could not finish within the frame and had to settle for second place, a mere three points behind their perennial rivals.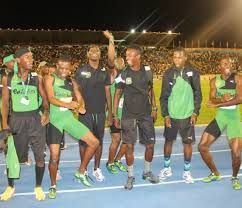 Completing the top five schools were Jamaica College on 203. St Jago High were fourth with 157 points and STETHS on 114.5 points.
- Advertisement -

The championship was filled with excitement and revelations from the opening day as records fell with regularity.
A highlight of the games was the defeat of Ugandan National Aryamanya Rodgers, in the Class two 1.500 meters by Calabar's Kevroy Venson, who shattered the record in 3:55.3. even though he slowed down as he crossed the finish line. Rodgers, who ran in the purple and white colors of KC, was regulated to second  and Venson's teamate Kimar Farquharson finished third.
Rodgers however turned the 5,000 meters into a cake walk and celebrated with the zugandan flag after his victory.
KC lost valuable points after their top flight sprinter Jhevaughn Matherson picked up and injury in the Class One 100 meters semi-final and false started in the 100 meters final. Matherson was also unable to compete in the 200o meters.