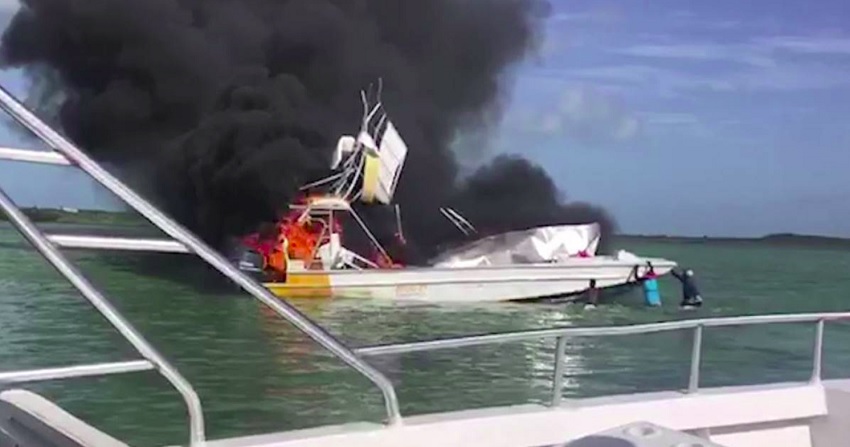 The Bahamas Ministry of Tourism and Aviation (BMOTA) has extended condolences to the family of the passenger who succumbed to her injuries following an incident in which a boat engine exploded off the coast of Exuma on the weekend.
It's reported that the boat, a charter, had ten tourists and two Bahamians on board when the explosion occurred.
American tourist killed
An American female tourist was killed, and several others injured in the blast. Six persons were treated at a local hospital and the others airlifted to a hospital in Florida.
"The Minister of Tourism and Aviation is deeply saddened by yesterday's tour boat incident in Exuma. We pray for the family of the passenger who succumbed to her injuries and offer our heartfelt condolences to her family and friends as they mourn her loss. Our prayers are also with all the other passengers who were aboard as they recover.," the Ministry said in a statement.
The Tourism Ministry said it has been assisting those affected and continues to work on the ground to provide emotional support and to help facilitate any needed arrangements.
Caring for and comforting victims
"The Exuma tourism team and the Ministry's Visitor Relations Unit (VRU) have been working to comfort and care for those on the boat, their families and friends. This team works directly with visitors as a liaison with local authorities, health organizations, pastoral care and more."
The Ministry and the VRU say officials are coordinating with the Ministry of Health to provide as much relief as possible to  visitors "during this difficult time."
  Meanwhile, The U.S. Coast Guard , in a news release,  said it provided assistance, transporting four American citizens to Florida after the explosion.
The Coast Guard said it sent an HC-130 Hercules airplane crew with two medical personnel to transport the boaters to Bayfront Health in St. Petersburg, Fla.
The cause of the blast remains under investigation by the Exuma branch of the Royal Bahamas Police Force, according to the Coast Guard.