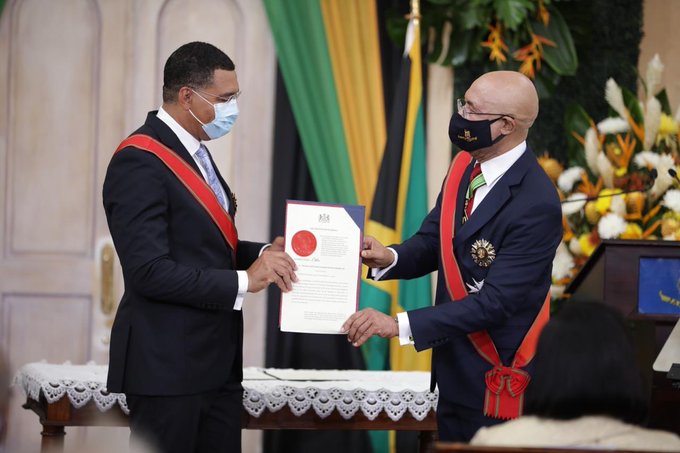 The queen of England has given Jamaica's prime minister, Andrew Holness, one more post-nominal title.  Effective May 26 the country's leader was appointed a member of the UK Privy Council and should now be addressed as "The Most Honourable Andrew Holness ON, PC, MP Prime Minister of Jamaica."   Holness is expected to attend a meeting of the council at the "first convenient opportunity" to take his oath.  Other Jamaicans to be given such honor include former Prime Ministers Sir Alexander Bustamante (1964), Hugh Shearer (1969), Edward Seaga (1981), and PJ Patterson (1992).   Former chief justice Edward Zacca was also given the distinction in September 1992. 
Former Prime Minister Michael Manley was also invited to the Privy Council during his tenure as prime minister from 1972 to 1980, but, respectfully declined the invitation.
But since Holness' appointment was announced, social media has been set ablaze with questions, concerns and consternation.  What does this appointment mean for the Prime Minister and what will his duties be?  How will it benefit Jamaica and its people, especially in light of Jamaica's position on a vexing issue with Britain, such as talks to remove the queen as head of state, and obtain reparation for the institution of slavery?
What is the Privy Council?
The Privy Council functions as a set of counsellors to the British Sovereign, known as "The Lords of Her Majesty's Most Honourable Privy Council."  Appointed by the King or Queen on the advice of the government, the entire body is divided into committees.  Their main duty is to advise His or Her Majesty on matters not delegated by the crown or those assigned to it by the British parliament. One of the more active committees is the Judicial Committee of the Privy Council.  It handles judicial act as the final court of appeal for Britain and many current and former commonwealth countries, including Jamaica.
Persons who are given the opportunity to serve her majesty on the council are mainly politicians including commonwealth prime ministers, cabinet ministers, opposition leaders, the cabinet secretary, leaders of large parties, senior parliamentarians and ministers.  The heir apparent to the British monarchy, the Archbishop of Canterbury, the Archbishop of York and the Bishop of London, are all "sure picks" on the council.  It is also customary for prime ministers of countries that have the monarch as head of state to be appointed.  
Allegiance to Two Countries
Now that Mr. Holness has been appointed, he will travel to England to "take office" after agreeing to the following:  
"You do swear by Almighty God to be a true and faithful Servant unto The Queen's Majesty as one of Her Majesty's Privy Council. You will not know or understand of any manner of thing to be attempted, done or spoken against Her Majesty's Person, Honour, Crown or Dignity Royal, but you will let and withstand the same to the uttermost of your power, and either cause it to be revealed to Her Majesty Herself, or to such of Her Privy Council as shall advertise Her Majesty of the same. You will in all things to be moved, treated and debated in Council, faithfully and truly declare your Mind and Opinion, according to your Heart and Conscience; and will keep secret all matters committed and revealed unto you, or that shall be treated of secretly in Council. And if any of the said Treaties or Counsels shall touch any of the Counsellors you will not reveal it unto him but will keep the same until such time as, by the consent of Her Majesty or of the Council, Publication shall be made thereof. You will to your uttermost bear Faith and Allegiance to the Queen's Majesty; and will assist and defend all Jurisdictions, Pre-eminences, and Authorities, granted to Her Majesty and annexed to the Crown by Acts of Parliament, or otherwise, against all Foreign Princes, Persons, Prelates, States, or Potentates. And generally, in all things you will do as a faithful and true Servant ought to do to Her Majesty. So help you God."
Upon agreement, Prime Minister Andrew Holness will become the fourth Jamaican head of government to hold this office and will be required to travel to Britain for meetings.
But can the Jamaican Prime Minister uphold allegiance to the queen while still doing so to his own country?  The oath of allegiance for Jamaican government ministers says: "I,_______, do swear that I will be faithful and bear true allegiance to Jamaica, that I will uphold and defend the Constitution and the laws of Jamaica and that I will conscientiously and impartially discharge my responsibilities to the people of Jamaica. So help me God."
Jamaica Wants Reparatory Justice
Furthermore, Jamaica is now at odds with Britain because of the lack of interest from the latter about slave reparations money.  A call that was made by former prime minister Portia Simpson-Miller from as far back as 2013 has gotten the same response from the British government in recent times; not interested.  Strangely, Simpson Miller, a woman who hailed from humble origins in rural Jamaica, was not appointed to the privy council during her tenure as prime minister. 
Jamaica's Culture minister, Olivia Grange said she "wants to petition Her Majesty for compensation for all the nation's citizens."  Grange further stated that, "We are hoping for reparatory justice in all forms that one would expect if they are to really ensure that we get justice from injustices to repair the damages that our ancestors experience."
Another question is, how can a Jamaican head of government fight for Jamaica, while simultaneously swearing to obey, and be a counsellor to, the queen and the British government?
But the real question is how being appointed to the British privy council, and having the letters PC behind Mr. Holness' name benefit the people of Jamaica at this time?