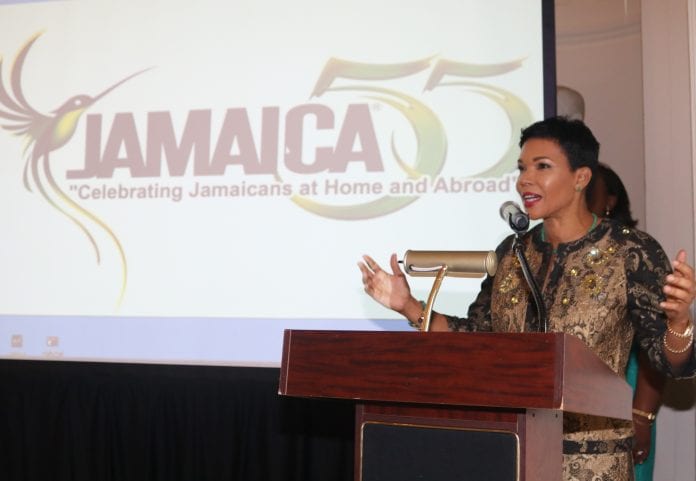 Jamaica's Ambassador to the United States Audrey Marks urged members of the Jamaican Diaspora in the United States, to safeguard Jamaica's heritage and "continue to build the Jamaican spirit, vision and ethos for our secured future."
She was addressing members of the Jamaican community and friends of Jamaica in Washington DC, at a reception to mark Jamaica's 55 year of independence at the Organization of American States (OAS) headquarters on Sunday.
Astute leadership
Ambassador Marks pointed out that "under astute leadership, Jamaica has begun to deliver on the promise so eloquently laid out on 6th August 1962 by carving out its own niche within the pantheon of the world's marketplace."
She said this year's theme, "Celebrating Jamaicans at home and abroad, has reminded that as a people with a noble heritage, we have made considerable achievements, making us arguably "the greatest little country in the world".
Much to celebrate
Ambassador Marks reiterated, "despite our challenges, we have much to celebrate. We must be proud of the fact that Jamaicans the world over, continue to rank high in virtually every field of human endeavor: in academic and scientific achievement; in political and economic development; in the cultural arena and in sports."
Bolt congratulated
She used the opportunity to congratulate Jamaica's Legendary Sprinter Usain Bolt for his contribution to Jamaica. She pointed out that just when he was retiring from the sport, he failed to get a gold medal. "However, the manner in which he handled the loss spoke volumes for him as a sportsman, an individual and a Jamaican."
She congratulated members of the Diaspora for the positive role they have played in the development of Jamaica and their adopted country. She noted the recently concluded Diaspora Conference affirmed yet again that Jamaicans were "determined to ensure that we find pathways to success."
The Jamaican Ambassador assured her audience she would be working "with members of the Jamaican community in the USA, for our secured future."
The reception, well attended by Jamaicans from all over the United States, featured celebrated songstress Karen Smith who performed a variety of nostalgic Jamaican songs.
The annual independence thanksgiving church service, which took place at the Howard University Dombarton Chapel, preceded the reception.