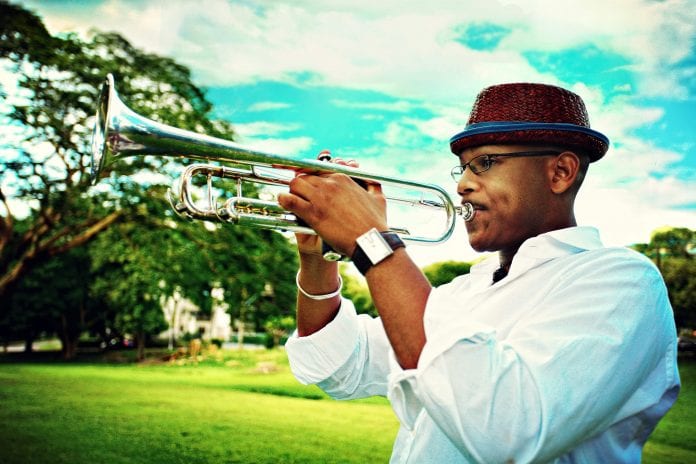 Miramar, FL – The magical music of Trinidadian trumpet player Etienne Charles and his band Creole Soul will take center-stage at the Miramar Cultural Center on Saturday, September 21 at 8:00 pm.
Hosted by Miramar Commissioner Maxwell B. Chambers, the concert entitled "Kaiso" is part of the 35th-anniversary celebration of Caribbean Riddims radio show.
For "Kaiso" Charles will present a captivating musical journey, tapping into a myriad of styles rooted in his Afro-Caribbean background. Selections will explore the depths of the islands from Calypso, Reggae, Rock-steady, Belair, Kongo and Rock, as well as the influence of Motown and R&B music that Charles listened to on his parents' record player when he was growing up in Trinidad. His concerts usually morph into a carnival celebration with the audience, on their feet, singing and dancing.
"We are delighted to be able to present such a talented musician as part of our anniversary celebration," stated Eddy Edwards, co-host of the Caribbean Riddims radio show aired on WZAB 880 am, Saturdays at 3:00 pm. "Our audience is a diverse mix from the islands and the music of Etienne Charles is influenced by a variety of genres from the French, Spanish and English-speaking Caribbean, of which we all can relate."
Perhaps more than any other musician of his generation or Eastern Caribbean origin, Charles brings a careful study of varied rhythms rooted in his diverse cultural heritage to the table. He is hailed by Jazz Times as "A daring improviser who delivers with heart-wrenching lyricism."
Tickets for Kaiso – Eitienne Charles and Creole Soul in concert are available at the Miramar Cultural Center Box Office, Ticketmaster and MiramarCulturalCenter.org. Tickets are also available by phone at 954-602-4500.