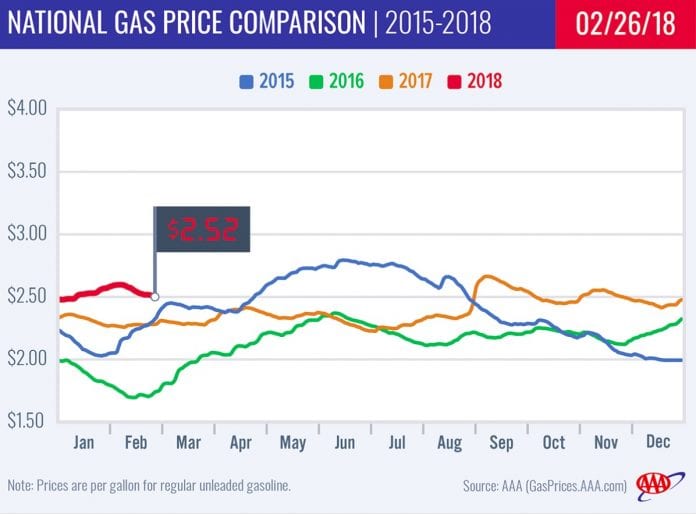 Gas prices have steadily declined during the past couple of weeks, but that downward trend is likely coming to an end. Refineries are entering their seasonal maintenance period, which can place significant upward pressure on prices at the pump. 
Historically, maintenance season has caused gas prices to jump 15-75 cents from February to June. Last year, pump prices only rose 15 cents during that time, because oil prices struggled to maintain strength. When gasoline jumped 60-70 cents in 2015 and '16, oil had risen $15-$20 per barrel. 
"Energy prices are rising again, which should signal the end for the steady slump at the pump," said Mark Jenkins, spokesman, AAA – The Auto Club Group. "Wholesale gasoline prices jumped last week, amid reports that refinery activity along the gulf coast is slowing down. This will make it more expensive for retailers to purchase gasoline, and that added expense will eventually be passed along to the consumer. Based on movements in the market last week, the short-term increase could amount to only a few cents, but motorists should expect a minimum total increase of 20-30 cents this spring."
Florida gas prices drop 16 cents in 17 days
Gas prices for the month of February are their highest in four years. Florida gas prices declined during the past 17 consecutive days, for a total discount of 16 cents. The state average of $2.52 is 5 cents less than a week ago and 3 cents less than last month. However, motorists are paying 24 cents per gallon more than this time last year – the difference of $4 for an average-sized tank of gasoline.
The 

most expensive

 gas price averages in Florida are in West Palm Beach-Boca Raton ($2.66), Sebastian-Vero Beach ($2.64), and Naples ($2.63).

The 

least expensive

 gas price averages in Florida are in Jacksonville ($2.43), Punta Gorda ($2.45), and Orlando ($2.47).