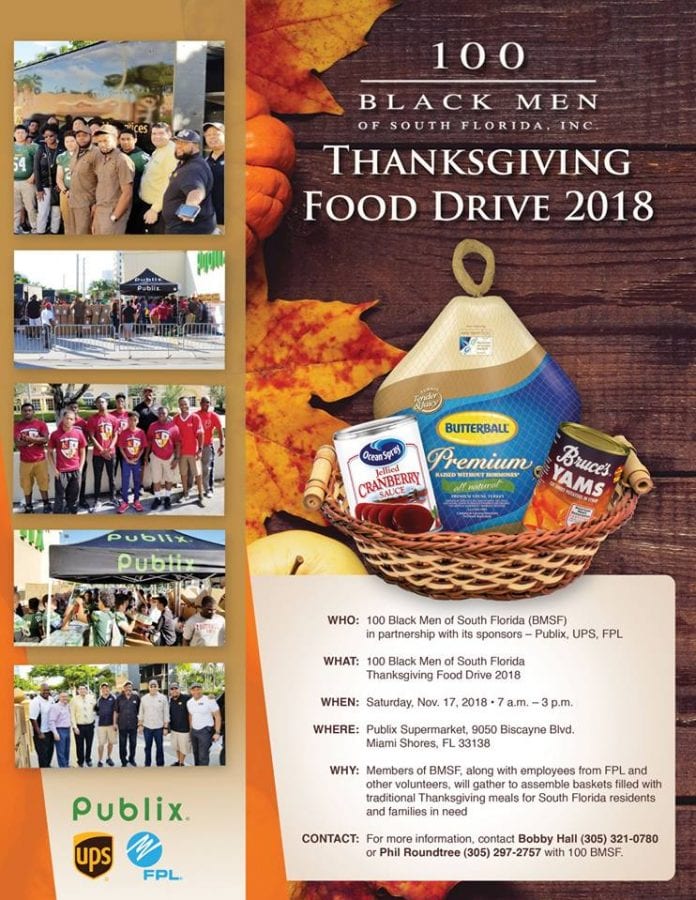 For the holidays, the 100 Black Men of South Florida (BMSF) continues its mission to spread the joy of Thanksgiving in South Florida to economically disadvantaged individuals and families.
Since 1989, the 100 BMSF, through its Thanksgiving Food Drive, has purchased and assembled "baskets" with traditional Thanksgiving meals for South Florida residents in need. The 100 and its partners deliver the meals to various social and community partner programs. The agencies identify the families and distribute the meals.
To date, more than 250,000 individuals in South Florida have benefited from the program through the 100's partnership with various companies. The 100 serve Thanksgiving meals to families who live as far south as Florida City, and as far north as to Sunrise, with assistance from its logistics partner – UPS and other volunteer contributors such as Florida Power & Light Company (FPL).
"Publix Supermarkets has been gracious to be our valued food partner the past 15 years," said Bobby Hall, an officer of the 100 and the lead organizer for the event. "As we continue to impact the lives of many families year to year with our Thanksgiving Food Drive, and as the number of those in need seeking a holiday blessing continues to grow, the 100 Black Men of South Florida and our partners, including volunteers from FPL, will always strive to be there to lend a helping hand."
This year's event will be held at the Publix Supermarket at 9050 Biscayne Blvd., Miami Shores, FL 33138 on Saturday, November 17 from 7 a.m. to 3 p.m