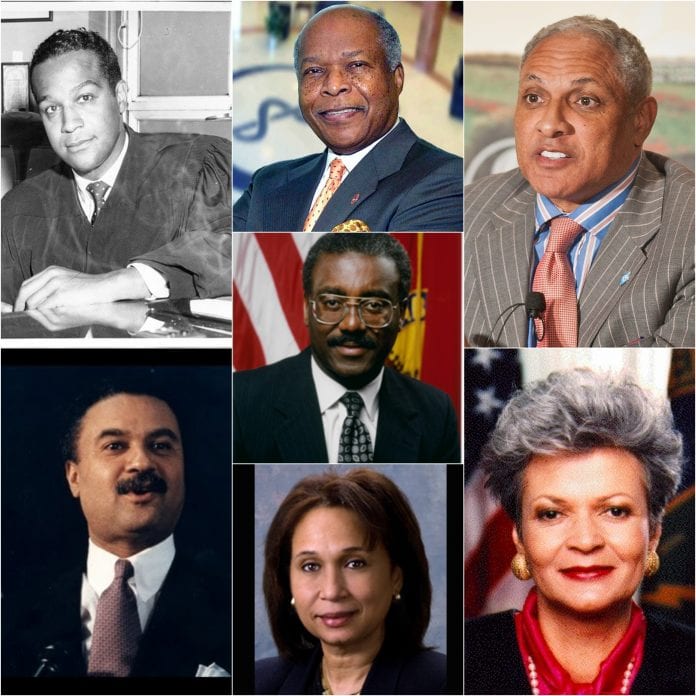 In selecting his Cabinet, President Joe Biden named two African Americans to the powerful position of Secretary of Defense—General Lloyd J. Austin III, the first Black man to hold this position, and Secretary of Housing and Urban Development Marcia Fudge.
He also named several African Americans and Caribbean Americans to other senior positions in his administration. And, of course, Vice President Kamala Harris is of African, Caribbean, and Asian origins.
Although there's pride in the African-American community for these appointments, this is by no means the first. Since 1966, 24 African Americans have served as Cabinet secretaries in the administration of 10 U.S. presidents.
Our first article in this series profiled the first three. Here are an additional seven:
Samuel Riley Pierce Jr. (September 8, 1922 – October 31, 2000)
Attorney and politician Samuel Riley Pierce Jr. served under the Ronald Reagan administration as secretary of housing and urban development from January 23, 1981, until January 20, 1989.

He was born in Glen Cove, NY in 1922 and graduated from Cornell University in 1989 with a law degree. In 1952 he earned his master's of law degree from New York University School of Law. 
A lifelong Republican, Pierce served in the United States Army's Criminal Investigation Division during World War II and first entered government during the Eisenhower presidency.
In 1955, Pierce served as an assistant to the undersecretary of labor and was appointed as a New York City judge by Governor Nelson Rockefeller. A year later, he was named a partner at the law firm of Battle Fowler,  becoming the first African-American partner of a major firm in New York.
Pierce is known for arguing before the U.S. Supreme Court on behalf of civil rights icon Martin Luther King Jr. and the New York Times. This case, the New York Times v. Sullivan, was considered a very important First Amendment case.
When he ascended to the position of HUD secretary in 1981, Pierce was the sole African-American cabinet member in Reagan's administration and he became the only cabinet member to serve in both of Reagan's terms.
Louis Wade Sullivan (born November 3, 1933)
Sullivan, an Atlanta native, was the Secretary of the U.S. Department of Health and Human Services under President George H. W. Bush's Administration. Sullivan wore many hats—active health policy leader, minority health advocate, author, physician, and educator—and was the founding dean of the Morehouse School of Medicine.
Educated at Booker T. Washington high school, where he graduated as a class salutatorian, Sullivan excelled at Morehouse College, graduating magna cum laude in 1954. Four years later, he earned his medical degree, cum laude, from Boston University School of Medicine.
Sullivan, who is certified in internal medicine and hematology,  became co-director of hematology at Boston University Medical Center, and, soon after, founded the Boston University Hematology Service at Boston City Hospital. Sullivan also served as an assistant professor of medicine, associate professor of medicine, and professor of medicine at Boston University. 
Alphonso Michael Espy (born November 30, 1953)
Rising to the level of U.S. secretary of agriculture, under President Clinton, Alphonso Michael Espy, who was born in Yazoo City Mississippi, has the distinction of being the first African American and the first person from the Deep South to hold the post. His tenure lasted for a year. 
Espy, who is a Democrat, had served as a congressman for Mississippi's 2nd congressional district from 1987 to 1993. 
Espy's grandfather Thomas J. Huddleston Sr. founded the Afro-American Sons and Daughters—a fraternal society that managed the Afro-American Hospital, which served Black people in the state from the 1920s to the 1970s. 
Espy's interest and activism in politics were already in place when he attended Howard University, where he held several elective posts. In 1978, he graduated from the Santa Clara University School of Law with a Juris Doctor degree.
Ronald Harmon Brown (August 1, 1941 – April 3, 1996) 
During President Clinton's first term in office, he selected Ronald Harmon Brown to serve as secretary of commerce. Before he was elevated to this position, he served as chairman of the Democratic National Committee (DNC), becoming the first African American to hold these posts. Brown lost his life, along with 34 others, in a 1996 plane crash in Croatia.
Brown was born to a middle-class family in Washington, D.C., and was raised in Harlem, New York. He attended Middlebury College in Vermont, where he made history as the first African-American member of the Sigma Phi Epsilon collegiate fraternity. 
He joined the National Urban League in 1967 after serving in the U.S. Army for five years. He attended law school at St. John's Univerity and graduated in 1970 with a law degree.
Six years later, Brown was appointed deputy executive director for programs and governmental affairs of the National Urban League, and in 1979, served as a deputy campaign manager in Senator Edward M. Kennedy's presidential campaign. Brown also worked as campaign director in Rev. Jesse Jackson's presidential campaign and in 1988. 
The next year, he was elected chairman of the DNC and played a key role in running a successful 1992 Democratic National Convention and helping Bill Clinton succeed in his 1992 presidential bid.
Jesse Brown (March 27, 1944 – August 15, 2002) 
Another African American to serve in the Clinton administration was Jesse Brown—a veteran of the United States Marine Corps. He served as secretary of Veterans Affairs from 1993 to 1997 and was the first African American to do so.
A Detroit, Michigan native, Jesse Brown was raised in Chicago, Illinois and attended City Colleges of Chicago, where he graduated with honors.
In 1963, Brown enlisted in the U.S. Marine Corps, reaching the rank of Corporal. While serving in the Vietnam War he suffered a serious injury in 1965 near Da Nang, which left his right arm partly paralyzed. 
Brown returned to Chicago and in 1967, he turned his attention to the Disabled American Veterans (DAV), where he served in several positions. There, he became the first African-American executive director of the organization from 1988 to 1993, then he was tapped by President Clinton for the cabinet position.
Hazel Reid O'Leary (born May 17, 1937) 
O'Leary has the distinction of being the first woman and first African American to hold the position of U.S. secretary of energy. She was elevated to the post under President Bill Clinton and served from 1993 to 1997.
Born in Newport News, Virginia, O'Leary, attended a segregated school in her early years. Later, she moved to New Jersey, where she attended an integrated school, Arts High School. In 1966, she graduated with a law degree from Rutger's Law School and later worked as a career prosecutor in organized crime cases in New Jersey. 
During her history-making tenure as secretary of energy, O'Leary was praised for declassifying old Department of Energy documents, which include exposing Cold War-era records showing that the U.S. conducted secret testing on the effects of radiation on unsuspecting American citizens.
O'Leary also served as president of Fisk University, a historically Black college, and her alma mater, from 2004 to 2013.   
Alexis Margaret Herman (born July 16, 1947)
Herman served as the 23rd and first African-American secretary of labor, under President Bill Clinton. Prior to serving as secretary, she was assistant to the president and director of the White House Office of Public Engagement. 
Herman grew up in Mobile, Alabama. After college, she worked to improve employment opportunities for Black laborers and women. She then joined the administration of President Jimmy Carter, working as director of the Labor Department's Women's Bureau. She became active in the Democratic Party, working in the campaigns of Jesse Jackson and then serving as chief of staff for the Democratic National Committee under Ronald H. Brown. 
CNW's Black History Month feature continues throughout the month of February.