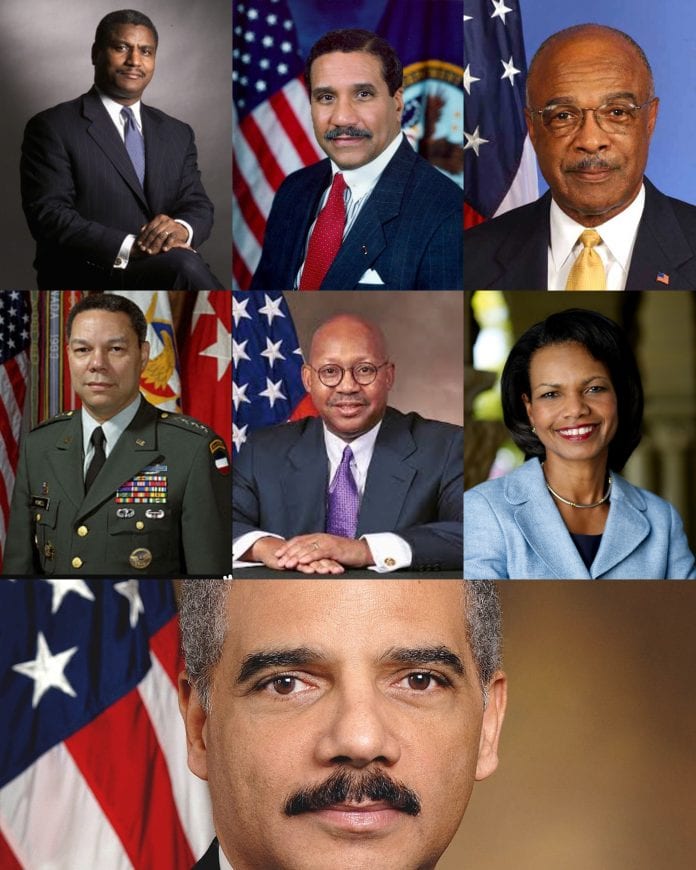 Continuing CNW Network's Black History Month series highlighting the African American men and women who served as Cabinet Secretaries in the administration of American presidents, here are the profile of seven individuals who contributed to Black History in America:   
Rodney Earl Slater (born February 23, 1955) 
Rodney Slater was another African American who Bill Clinton appointed to serve in his cabinet. Slater served as the United States secretary of transportation from 1997 to 2001.
Before this appointment, Slater served as the administrator of the Federal Highway Administration from 1993 to 1997.
Slater graduated from Eastern Michigan University in 1977, and received his Juris Doctor degree from the University of Arkansas School of Law in 1980. 
Quickly moving into the political arena, Slater, that same year, became an assistant attorney general for the state of Arkansas. He was appointed to several state government positions in Arkansas by then Arkansas Governor Bill Clinton. These positions included assistant to the governor between 1983 and 1987, and member of the Arkansas State Highway Commission between 1987 and 1993. Slater also served as the director of governmental affairs for Arkansas State University during that time. 
When Clinton assumed office in 1993, Slater had the distinction of being appointed as the first African-American director of the Federal Highway Administration. 
Then in 1997, Clinton tapped him for the secretary of transportation, making him the second African American to hold that Cabinet position.
Togo Dennis West Jr. (June 21, 1942 – March 8, 2018) 
West, an attorney and public official, was also appointed to serve in Bill Clinton's Cabinet from 1998 to his resignation in 2000.
West was the third person to serve as the secretary of the U.S. Department of Veterans Affairs during Bill Clinton's administration and the second African American to serve the country as VA secretary. 
Togo West was born in Winston-Salem, North Carolina. He was the valedictorian at his graduation from Atkins High School in 1959. After high school, he obtained a Bachelor of Science degree in engineering from Howard University. He attended the university's school of law, where he became the managing editor of the Howard Law Journal. In 1968, West received his Juris Doctor degree from the university, graduating at the top of his class and receiving cum laude honors.
Prior to his Cabinet nomination by President Clinton in 1998, West was secretary of the army from 1993 to 1998. While awaiting confirmation as VA secretary, West served as acting VA secretary and secretary of the army.
When George W. Bush succeeded Clinton as president in 2001, he continued the trend of nominating African Americans to his Cabinet.
Roderick Raynor Paige (born June 17, 1933) 
Rod Paige, nominated by President George W. Bush, was the 7th United States secretary of education and the first African American to hold the post. He served in Bush's first-term Cabinet from 2001 to 2005. 
Prior to his tenure in Bush's Cabinet, Paige, who was born and raised in Monticello, Mississippi, earned a bachelor's degree from Jackson State University in Jackson, Mississippi, and a master's degree and Doctor of Education degree in physical education from Indiana University Bloomington.
Paige's career focused on education. First, he held the position of classroom teacher, rising to college dean and school superintendent, then to becoming the first African American education secretary. 
When terrorists attacked the World Trade Center in New York City on September 11, 2001, Paige was sitting with President Bush at the Emma E. Booker Elementary School in Sarasota, Florida, where Bush received the news of the attack.
Following his tenure as secretary of education, Paige served as interim president of Jackson State University, from November 2016 to June 2017. 
In Paige's honor, the James Bowie Elementary School in Houston was renamed the Rod Paige Elementary School, and in his hometown of Monticello, Mississippi, the middle school was renamed the Rod Paige Middle School.
Colin Luther Powell (born April 5, 1937)
Powell, the son of Jamaican parents, has the distinct honor of being the first African American to serve as the United States secretary of state. The retired four-star general was nominated by President George W. Bush in 2001 as the 65th secretary of state from 2001, and served in that post until 2005. His Cabinet post, placing him fourth in line to the U.S. presidency was the highest ever held by an African American. 
Prior to his role as secretary of state, Powell served as the 16th United States national security advisor from 1987 to 1989 under President Ronald Reagan, and was appointed as the 12th chairman of the Joint Chiefs of Staff from 1989 to 1993 under President George H. W. Bush.
Powell was born in South Bronx, New York City in 1937 to Jamaican immigrants Luther and Maud Powell. After attending New York City public schools he went to the City College of New York (CCNY), where he earned a bachelor's degree in geology.
At CCNY, Powell developed a keen interest in the military and joined the Reserve Officers' Training Corps (ROTC). Upon graduation from CCNY in June 1958, he received a commission as an Army second lieutenant. He remained a professional soldier for 35 years, holding many command and staff positions, rising to the rank of four-star general. Powell was commander of the U.S. Army Forces Command in 1989, and that year also reached the pinnacle of military positions in the Department of Defense as the 12th chairman of the Joint Chiefs of Staff. During his tenure as chairman, he oversaw several key military missions, including the invasion of Panama in 1989 and Operation Desert Storm in the Persian Gulf War against Iraq in 1990 to 1991. 
Unfortunately, Powell's tenure as secretary of state attracted controversy regarding his being misled that Saddam Hussien was hiding weapons of mass destruction, which gave justification for the U.S. to invade Iraq in 2003. 
Alphonso R. Jackson (born September 9, 1945)
Another of President George W. Bush's African American nominees, Alphonso Jackson served as the 13th United States secretary of housing and urban development (HUD). He served from January 2004 until his resignation in March 2008.
Jackson was born on September 9, 1945, in Marshall, Texas—the last of 12 children in the family. He studied political science at Truman State University, where he also earned a master's degree in education administration in 1969. He later studied law at Washington University School of Law in St. Louis.
In March 1965, Jackson participated in the civil rights march from Selma to Montgomery, Alabama, which because of the ensuing attacks by police became known as Bloody Sunday. 
Embarking a public service career in St. Louis, Missouri, he was also active in both Democratic and Republican circles in the city for many years. In 1987, he was appointed director of the U.S. Department of Public and Assisted Housing for Washington, D.C.
Condoleezza "Condi" Rice (November 14, 1954)  
Condi Rice, a diplomat, political scientist, civil servant, and professor, was the other African American appointed to the Cabinet of President George W. Bush. Having served as Bush's national security advisor during his first term from 2001 to 2005, she was nominated to succeed Colin Powell as secretary of state from 2005 to 2009 to become the first African-American woman to hold the position. She was also the first woman to serve as national security advisor.  
Born in Birmingham, Alabama, Rice grew up in the era of racial segregation. 
She obtained her bachelor's degree from the University of Denver and master's degree in political science from the University of Notre Dame. In 1981, Rice received a PhD from the School of International Studies at the University of Denver.
Originally a Democrat, Rice worked at the State Department under the Carter administration. In 1982, she switched to the Republican Party, and years later she served on the National Security Council as the Soviet and Eastern Europe Affairs advisor to President George H. W. Bush during the dissolution of the Soviet Union and German reunification from 1989 to 1991. 
From 1993 to 1999, Rice was provost at Stanford University, and in December 2000, she joined the George W. Bush administration as national security advisor. 
When the Bush administration ended in 2009, Rice returned to Stanford University as a political science professor and the Thomas and Barbara Stephenson Senior Fellow on Public Policy at the Hoover Institution.
In September 2020, Rice was named director of the Hoover Institution.
Eric Himpton Holder Jr. (born January 21, 1951) 
In 2009, Holder, an attorney, was appointed to the Cabinet of America's first African-American President, Barack Obama, as the first African American, and  82nd U.S. attorney general, serving in that post well into Obama's second term, until he retired in 2015.         
Holder's father was a Barbadian immigrant who lived in New York City, where Holder was born. He grew up in East Elmhurst, Queens, and attended public school until age 10. In the 4th grade, Holder was selected to participate in a program for intellectually gifted students. 
He graduated from Stuyvesant High School, Columbia College, and Columbia Law School. 
After he graduated from law school, Holder worked at the Public Integrity Section of the Department of Justice for 12 years; served as a judge of the Superior Court of the District of Columbia; appointed by President Bill Clinton as United States attorney for the District of Columbia and subsequently deputy attorney general.