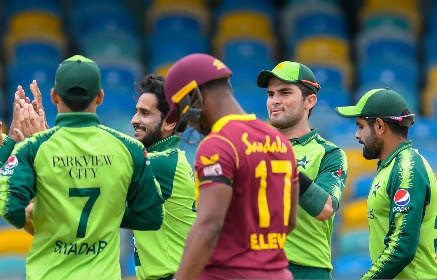 ST JOHN'S, Antigua (CMC) – Cricket West Indies (CWI) has pressed ahead with the white-ball tour of Pakistan in a massive boost for the south Asian country, in the wake of high-profile pull-outs by England and New Zealand over security concerns.
The regional governing body said Thursday West Indies will play three Twenty20 internationals and three One-Day Internationals in Karachi from December 13-22, and would continue "to monitor the security situation in Pakistan" through Independent security advisors, Eastern Star International (ESI).
A security representative from ESI will accompany the squad throughout the tour. West Indies and Pakistan set to renew their rivalry in Karachi.
"Today we have confirmed the details for the West Indies men's white ball tour of Pakistan in December," said CWI chief executive, Johnny Grave.
"CWI would like to thank the Pakistan Cricket Board (PCB) and our own cricket operations, medical and security teams for the work that has gone into the organization of this tour.
"West Indies and Pakistan have always delivered exciting series and we're looking forward to visiting Pakistan to complete what has been a hectic and momentous year of cricket in the light of the ongoing challenges of the COVID-19 pandemic.
"The tour starts a new cycle of T20I cricket, building towards next year's ICC T20 World Cup in Australia. The ODIs also have great significance as West Indies look to earn more points towards securing qualification for the ICC Men's ODI Cricket World Cup in India in 2023."
England's men and women were scheduled to tour Pakistan last month but the England and Wales Cricket Board cited "increasing concerns about travelling to the region" as they pulled the plug on both series.
New Zealand Cricket said it had abandoned the September tour due to "an escalation in the New Zealand government threat levels for Pakistan".
West Indies are scheduled to arrive in Karachi on December 9 before facing the hosts in three T20 Internationals from December 13-16 and another three One-Day Internationals from December 18-22.
West Indies Women are currently on a three-match ODI tour of Pakistan which runs from November 8-14.
ITINERARY
December 13 – 1st T20I, Karachi
December 14 – 2nd T20I, Karachi
December 16 – 3rd T20I, Karachi
December 18 – 1st ODI, Karachi
December 20 – 2nd ODI, Karachi
December 22 – 3rd ODI, Karachi