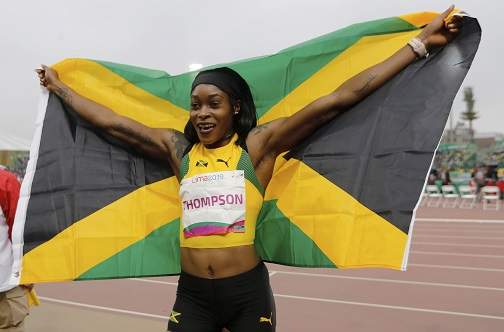 LIMA, Peru – Jamaican track and field athletes are mining plenty of gold at the Pan American Games being held in Lima, Peru.
On Jamaica's Independence Day on August 6, discuss thrower Fedrick Dacres gave the nation the gift of a gold medal when he won the men discuss in breaking the Pan American Games record meet record with a throw of 67.68meters. His compatriot Travis Smikle placed second with a distance of 65.02 meters.
Also on Tuesday, Jamaican long jumper Tissanna Hickling won the bronze medal in the women's long jump, with a leap of 6.59m. The event was won by British Virgin Islands' Chantel Malone with a distance of 6.68m.
On Wednesday, August 7, Olympics and World Athletic Champion sprinter Elaine Thompson and 800 meters runner Natoya Goule also struck gold.
Thompson won the women 100meters in a time of 11.18 secs. Trinidad and Tobago's Michelle-Lee Ahye won the silver medal in 11.27 seconds, while Brazil's Vitoria Christina the bronze in 11.30 seconds. Jamaica's Natasha Morrison placed sixth in 11.40 seconds.
Goule who has been showing improvement in the 800m, an event in which she won a bronze medal at the 2018 Commonwealth Game, won her first major international championship title in 2:01.26 minutes in a stiff battle with Cuba's Rose Marie Almanza.
Goule ran the final 200 meters very hard and showed exceptional strength in the final 50 meters to leave the Cuban in second place with a time of 2:01.64 with Uruguay's Deborah Rodriquez taking the bronze in 2:01.66.
In the men's long jump, Jamaican Tajay Gayle won the silver medal in a battle with Cuban Juan Miquel Echevarria. Gayle led the event from the second round with a leap of 8.17m (0.3m/s), but l Echevarria made a great effort in the fourth round leaping 8.27m to take over the lead and hung on to win gold.
Up to Wednesday, Jamaica had won a total of three gold, two silver and a bronze medal and were poised to win several more track and field medals as the Games continue.