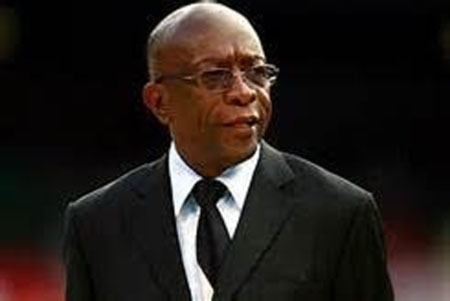 Former CONCACF and Trinidad and Tobago official Jack Warner expresses great joy at Trinidad and Tobago victory over the US in World Cup qualifier.
One of the happiest people following Trinidad and Tobago's upset 2-1 win over the United States on October 12 was Austin Jack Warner, former CONCACAF president and FIFA vice-president.
"I have not been in better spirits. This is the happiest day of my life," Warner told the Trinidad Express. "It (the win) couldn't have given me great joy."
The victory, at Ato Boldon Stadium in Couva, Trinidad eliminated the US from World Cup qualification to next year's tournament in Russia. Trinidad and Tobago were long out of contention.
Warner Ecstatic
Warner was ecstatic with the result. "They have used their government to help to dismember FIFA in a way that is unimaginable. And last night on the field of play Trinidad and Tobago reduced them to their knees," he said.
Warner was arrested in 2015 on corruption and fraud charges by US federal prosecutors. He has bitterly opposed the country's officials since.
The US have been to every World Cup since 1990 and consistently compete with Mexico for position of top CONCACAF team. In July, they won the Gold Cup, beating Jamaica 2-1 in the final.
Warner was president of CONCACAF in November, 1989 when the US edged Trinidad and Tobago 1-0 in Port of Spain to qualify for the 1990 World Cup in Italy. A draw would have earned the hosts their first World Cup berth.
Ominous times for US soccer
With soccer officials in the US calling for Bruce Arena to be sacked as head coach, Warner sees ominous times for the game in their country.
"It is the beginning of the end for US football. They will continue to undermine (the World Cup in) Qatar for 2022, but they will not succeed. As far as I am concerned this is the beginning of the end for US football. Nobody in CONCACAF likes the US," he said.