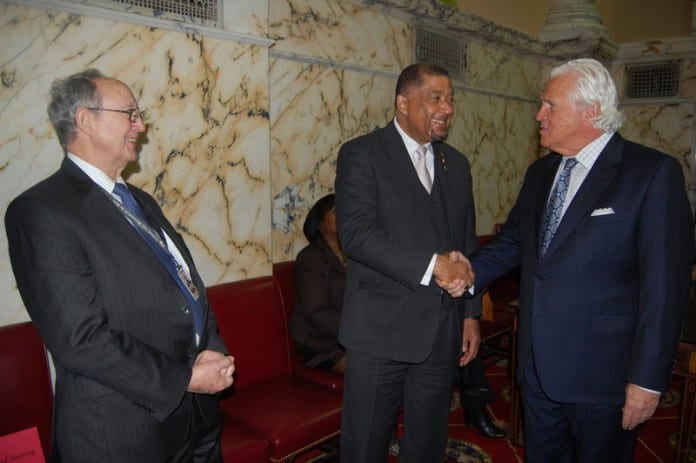 Urges MD lawmakers to invest opportunities that exist in Jamaica
Ambassador Ralph Thomas has made history as the first Jamaican diplomat to address the Maryland General Assembly. As Ambassador to the United States, he made the historic step speaking to the 436th legislative session of the state body in Annapolis, the Free State capital, on February 1 – which marked the start of Black History Month celebration across the United States.
Ambassador Thomas was invited after Jamaican-born first-term state senator; Shirley Nathan-Pulliam moved a resolution paving the way for him to address this distinguished body of Maryland lawmakers.
The Ambassador said he was deeply honored to have the privilege of addressing this important body.  He pointed out that in the city of Baltimore, Jamaicans represent the largest group of West Indians and that 2014 statistical data reflect that Jamaicans were the second largest foreign-born population in Baltimore, after Mexicans.
The Head of Mission went on to note that the Jamaican community in Maryland is made up of a large cadre of highly skilled professionals which include educators, entrepreneurs and students.  Many have proudly served in political capacities, among them Senator Nathan-Pulliam who for many years was a member of the Maryland House of Delegates before joining the state senate.
"The largest concentration of Jamaicans has contributed significantly to the melting pot of culture and diversity that form part of the colorful tapestry of your beautiful state," Ambassador Thomas said.  He told the lawmakers that while in Washington he intends to pursue every opportunity for deepening and strengthening the relationship between Jamaica and Maryland.
"Jamaica is open for business," he told the lawmakers, urging them to examine the various investment opportunities that exist in business process outsourcing, medical tourism, manufacturing, renewable energy, agriculture infrastructure development, logistics hub and the maritime industry.  He said that the government is taking advantage of its geographic location in positioning the island as a major Caribbean hub for energy and port services.
The Ambassador also used the opportunity to extend warm greetings to the members of the Senate on behalf of Prime Minister the Hon. Portia Simpson-Miller, the Government and the people of Jamaica.
Prior to addressing the General Assembly, Ambassador Thomas was guest of honour at a reception with state lawmakers, business leaders, and Jamaican community members. It was hosted by Senator Nathan-Pulliam and the Jamaica Association of Maryland (JAM).
During his one-day Annapolis visit, which was at Nathan-Pulliam's invitation, Ambassador Thomas also held talks with Lieutenant Governor Boyd Rutherford, Maryland Secretary of Agriculture and Commerce Joe Bartenfelder, and State Secretary John Wobensmith.  He was accompanied by the Deputy Chief of Mission at the Embassy of Jamaica, Mrs. Marsha Coore-Lobban; and Economic Affairs Officer Mrs. Ariel Bowen.  
A large contingent of Jamaicans from Baltimore, including President of the National Association of Jamaican and Supportive Organizations (NAJASO), Rick Nugent, and JAM President Noel Godfrey, were on hand at the state capitol to witness this historic speech.