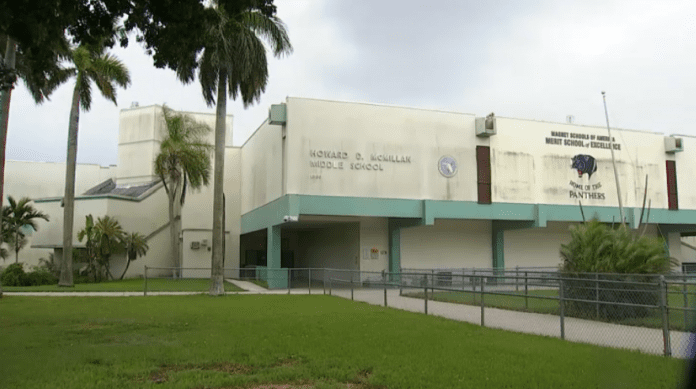 MIAMI DADE COUNTY – In the past two days, the Miami-Dade Schools Police Department (M-DSPD) has arrested two students and is in the process of determining the potential involvement of others in connection to multiple social media threats against Howard D. McMillan Middle School.
Since the beginning of the school year, Miami-Dade County Public Schools (M-DCPS) has received a total of 18 threats, five of which have resulted in arrests.
"Miami-Dade County Public Schools has a strong reputation as a leader and innovator in public education, focused on providing a safe and productive learning and teaching environment for all students and staff. The recent and reckless social media threats go against everything this school district stands for," said Superintendent of Schools Alberto M. Carvalho. "M-DCPS will not tolerate any perceived threat, no matter how big or small it may be. All threats will be investigated thoroughly, and severe and life-impacting consequences could result. We uphold the values of restraint, respect and responsibility and ask that parents continue to emphasize this lesson at home."
A threat of any kind – written, verbal, or posted on social media – to kill or harm is considered a felony and perpetrators will be prosecuted to the full extent of the law, as evidenced by these arrests. In addition to state charges, a federal charge could be included, which carries a maximum sentence of five years in prison.
"The Miami Dade Schools Police Department works cohesively with local, state and federal law enforcement agencies in investigating all threats, including those made on social media platforms, said Schools Police Chief Edwin Lopez. "Our investigators are skillfully trained and equipped to identify those individuals who continue to knowingly and willfully commit this felony. We continue to urge parents, guardians and students to utilize social media responsibly."
The District will continue to exercise a zero-tolerance policy against this type of behavior. These threats interfere with police officers' ability to protect schools from real dangers and drain law enforcement resources. In addition, they disrupt the educational environment, may lead to unnecessary stress and anxiety and an increase in absenteeism