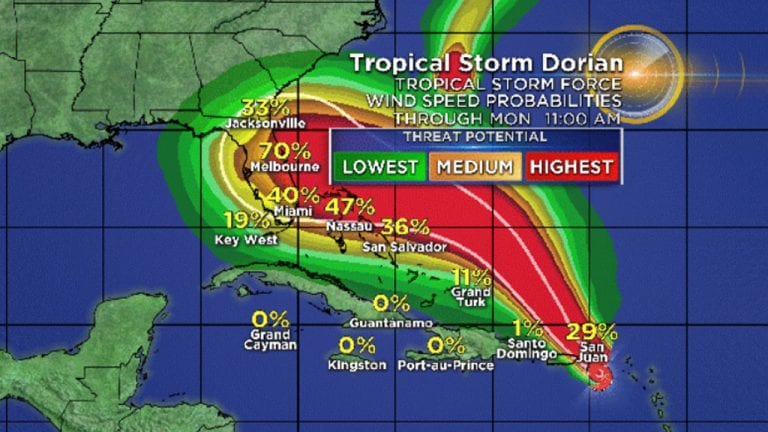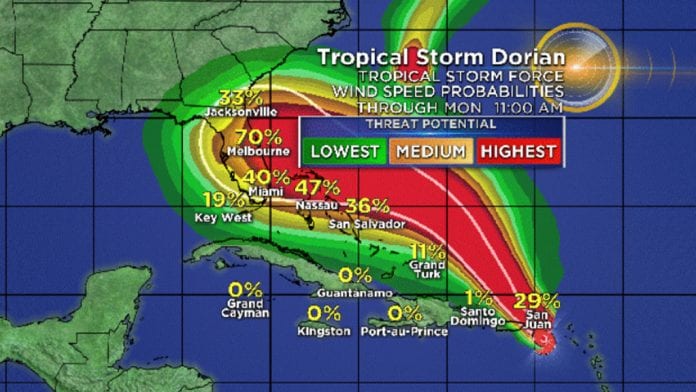 TALLAHASSEE, Florida — A state of emergency (SOE) has been declared in Florida ahead of Hurricane Dorian that will make landfall near the state as a powerful category 4 hurricane this weekend.
After sweeping over the US Virgin Islands and Puerto Rico, leaving the islands with little damage, Dorian is expected to strengthen to a major, life-threatening Category 4 Hurricane when it brushes near Florida's east coast on Sunday night.
Since 1990, only eight Category 4-5 hurricanes have made landfall along Florida's east coast, the most recent being Hurricane Andrew in 1992. To give perspective, Hurricane Harvey, which ravaged the Texas area in 2017, was also a Category 4 hurricane.
Governor of Florida Ron DeSantis issued the SOE Executive Order yesterday urging residents, especially those on the East Coast, to prepare for the hurricane's impact.
"Today, I am declaring a state of emergency to ensure Florida is fully prepared for Hurricane Dorian," said Governor DeSantis. "It's important for Floridians on the East Coast to monitor this storm closely. Every Florida resident should have seven days of supplies, including food, water and medicine, and should have a plan in case of disaster. I will continue to monitor Hurricane Dorian closely with emergency management officials. The state stands ready to support all counties along the coast as they prepare."
By issuing the SOE, the Governor has also given the state and local governments enough time to gather resource to ensure the safety of residents. The State Emergency Operations Center will activate to a Level 2 this morning, enhancing the coordination between federal, state and local emergency management agencies.
As of August 29, it was too early to determine where exactly the storm would make landfall, although it seems to be headed in the Freeport/Miami/Tampa area. However, according to Fox News meteorologist Glenn Richards, if Dorian's current track holds, it could be the worst storm Central Florida has experienced in three decades.
The Governor's SOE was issued for 26 east Florida counties, including Baker, Bradford, Brevard, Broward, Clay, Duval, Flagler, Glades, Hendry, Highlands, Indian River, Lake, Martin, Miami-Dade, Monroe, Nassau, Okeechobee, Orange, Osceola, Palm Beach, Putnam, Seminole, St. Johns, St. Lucie, Volusia and Union.
To read the full executive order, visit https://www.flgov.com/wp-content/uploads/2019/08/EO-19-189.pdf