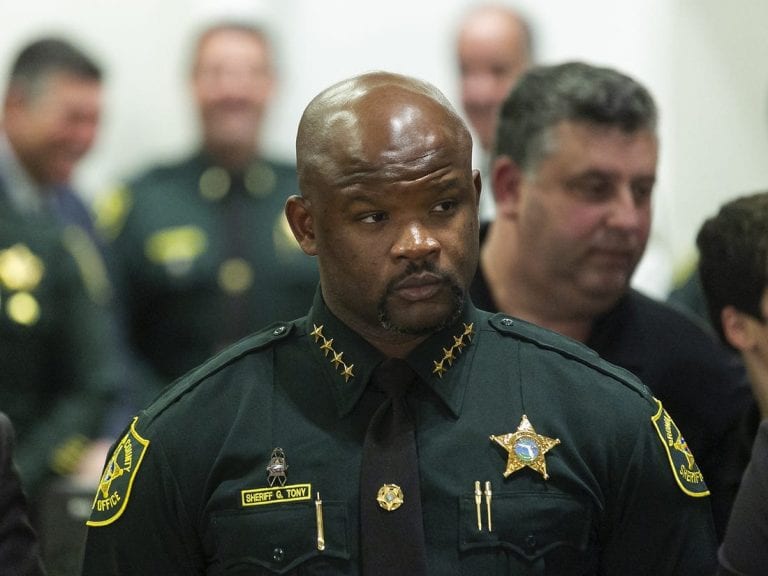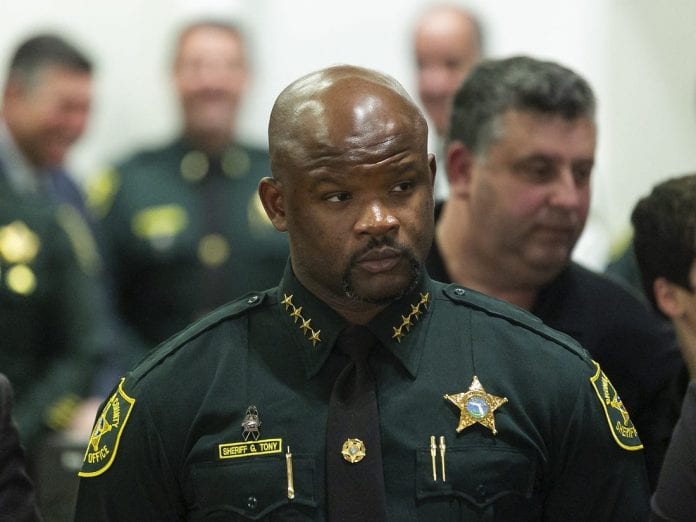 In the very competitive Democratic race for Broward County Sheriff, incumbent Gregory Tony held off the strong challenge from former Sheriff Scott Israel in Primary Elections held in Florida on Tuesday, August 18.
All indicators, prior to Tuesday, pointed to a very close race between Tony and Israel, who lost his job to Tony two years ago when he was removed by Governor Ron DeSantis in the aftermath of the high school shooting tragedy in Parkland in 2018.
Some political pundits predicted Israel's victory in a crowded field with four African American candidates, including Tony, suggesting that the African Americans would divide the black vote allowing Israel to squeeze through. However, Tony ran an extremely strong campaign boosted by a hefty campaign chest, while touting evidence of his plan to reform the Broward Sheriff's Office and the manner in which the county sheriffs relate to county residents, particularly minorities.
After a tense counting of the votes, in which Tony always maintained a slim lead, he eventually emerged the winner with 37.35 percent of the votes (79466 votes), compared to Israel with 35.14 percent (74738 votes), a slim majority of 4728 votes.
In a statement released shortly after his win was evident, Sheriff Tony said, "I am deeply honored that Democratic voters have chosen me to lead the Broward Sheriff's Office into a brighter, safer future."
"We've come a long way in the last 18 months, but there is still much work to be done. Together, we're reforming the Sheriff's Office, promoting good deputies and keeping our communities safer by embracing police reform. As your Sheriff, I will work tirelessly to make this department a model for how a public safety agency can be effective, transparent, and accountable to our community. Let's keep moving forward."
Technically, Tony has not been reelected as County Sheriff as he will now advance to run against Republican H. Wayne Clark who won the Republican primary, in the November 3 general elections.
However, in Democrat-leaning Broward County, Tony is almost assured of victory.
On Tuesday Sheriff Tony also defeated Jamaican-American Andrew Smalling, the former police chief of the City of Lauderhill and three other candidates.
Disappointments for Caribbean American Candidates

Major disappointment for the Caribbean American community was the defeat of Jamaican Americans attorney Marlon Hill in the District 9 race for the Miami-Dade County Commission; Lavern Deer in the mayoral race for the City of Miami Gardens, attorney Ian Richards in his bid to sit on the Circuit Court in Broward County; and attorney Melba Pearson who lost her bid to unseat incumbent Florida State Attorney Katherine Fernandez Rundle in Miami-Dade County.
As votes were counted on Tuesday night it was evident Hill would have an uphill task defeating former Democratic State Representative Kionne McGhee, but hopes were high he could get enough votes to face McGhee in a runoff as neither candidate appeared likely to receive the required 51 percent of the votes to be declared the winner. However, when the votes were finalized McGhee received 36.80 percent (10,484 votes), and Hill 22.06 percent (6,286), but Hill was denied facing McGhee in the required runoff, as another of the five candidates Elvis R. Maldonado received 23.02 percent, besting Hill by 274 votes.
Happy winners
But, on the other hand, there were several Caribbean-American winners. These included Jamaican American Carla Spalding, Republican, who won the primary for her party and will challenge incumbent Debra Wasserman Schultz for the Congressional seat in District 23 in November.
Another Jamaican American, Anika Omphroy retained her Florida House seat in District 95 in Broward County turning back the challenge from Jasmen Shaw; and Dale Holness, Broward County's mayor, easily retained his District 9 seat on the Broward County Commission.
Barbadian-American Marie Woodson won the seat for District 101 in the Florida House of Representatives.  Another Barbadian American Gordon Weeks, a Democrat, won the primary for Broward County's Public Defender. Haitian American Dotie Joseph won the primary for District 108 in the Florida House.
Bahamian American Shevrin Jones won his primary race in District 35 in the Florida Senate. In doing so he defeated Haitian America Daphne Campbell who was seeking reelection to the seat.
St. Kittitian (St. Kits and Nevis) American attorney Christopher Benjamin won the Florida House-District 107 primary. Puerto Rican American Alexandria Ayala won the District 2 seat on the Palm Beach County school board.
Although Haitian American Gepsie Metellus lost her initial bid for the Miami-Dade Commission District 3 seat, receiving 21.20 percent of the votes, she denied Keon Hardemon who received 49.16 percent, the absolute victory and will face him again in the subsequent run-off election.
Relatively High Voter Turnout
Overall, the voter turn-out in the primary elections was higher than in previous elections. The average vote in the tri-county region averaged 26.89 percent, with Miami-Dade County receiving 28.23 percent, Palm Beach County 26.45 percent and Broward County 25,92 percent. Prior primary elections averaged 19 percent of the total registered voters in the region.
Although in-person voting on Tuesday was relatively slow the majority of the votes in the primary elections were from mail-in ballots, from voters who took advantage of early voting. As of Monday, the combined totals of mail balloting and early voting were up at least 47percent in Broward, 62percent in Miami-Dade and 78 percent in Palm Beach. Statewide totals went up as well,
by 32 percent. Preliminary data also showed Democratic voting by mail is up much more than Republican mail voting. The increase is 88 percent for Democrats statewide and 18 percent for Republicans.