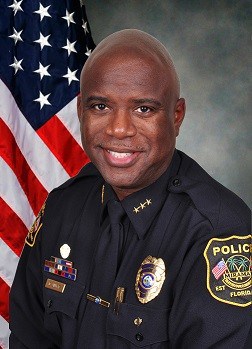 The city of Miramar recently appointed New York native Dexter Williams as the new Police Chief. Williams was named Interim Police Chief earlier this year, after replacing ex-chief Ray Black, who officially retired from the position in January.
Spanning an over 25-year career in law enforcement, Williams has been serving in the Miramar City Police Force since 1993 in several departments and programs, from criminal investigations and domestic violence and victim services, to citizen volunteer programs and field operations. A graduate of the FBI National Academy, Williams also holds two Master's degrees in justice administration and public management from St. Thomas University.
Regarding his policing and public service interest, Williams has cited particular passion for working with children in the judicial system, particularly with several local non-profit organizations. He has worked closely with at-risk children through many outreach programs in Broward County.
This focus on children's welfare carries personal importance for Williams, who faced many "rough times" as a youth growing up the projects in Brooklyn, New York, and for some time as a young child in Spanish Town, Jamaica, with his grandparents.
"Growing up in the projects, I knew the importance of mentorship and guidance," says Chief Williams in an interview with National Weekly. Williams was particularly grateful for the support from his mother, a "hard-working Jamaican woman, a single parent raising me on her own." Thanks to support from both family and the influential public programs of his youth, "I was able to find a way out of the projects. Being so grateful, I knew I wanted to give back through public service. I wanted to give children a new vision, a new hope for their future. I wanted to show them if I can get out, you can too."
Although born in the United States, Williams says he still feels very connected to the Caribbean community through his upbringing, and is proud to be serving Miramar's diverse population, including the city's strong Caribbean Diaspora presence.
"My Caribbean roots is where I got my value and morals," says Chief Williams, "so I like to stay close to the community, so I don't lose focus."